| | |
| --- | --- |
| Posted on March 20, 2014 at 6:05 AM | |
Have you ever had trouble thinking of a good vegetarian appetizer that the rest of the crowd will still enjoy? Here is one that everyone will love. These Brie, Asian Pear and Arugula Crostini's are a perfect, sophisticated appetizer for any Spring gathering.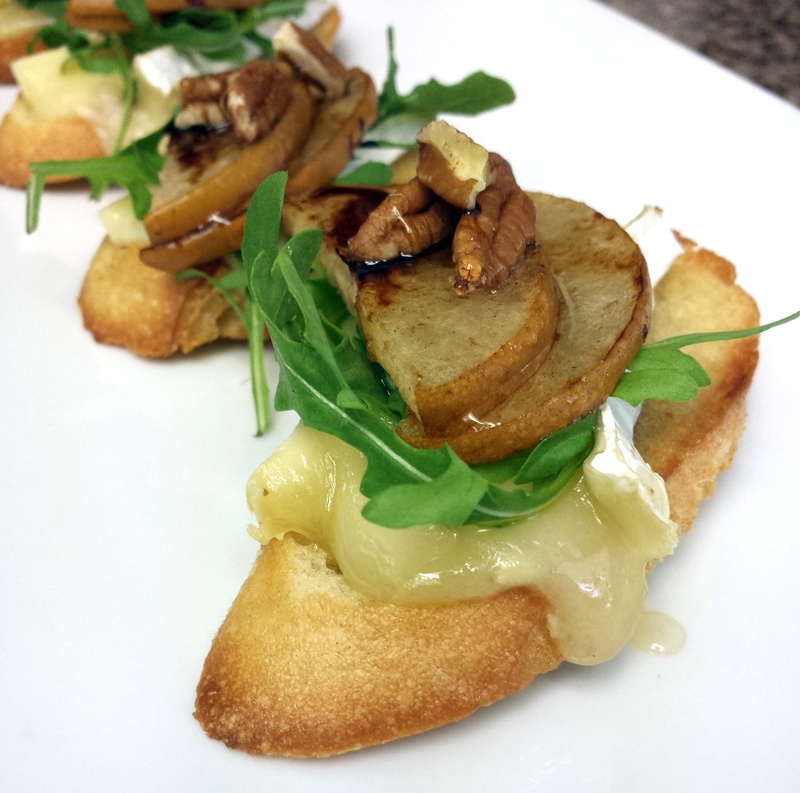 Makes: 20 Appetizers

Prep Time: 20 Minutes
Cook Time 10 Minutes
By: Chef Hallie Norvet
Ingredients:
1 French Bread Roll, Cut into 20 Slices on a Bias
3 Tablespoons Melted Butter

1 Medium Wedge of Brie, Sliced into 20 two-inch slices
2 oz. Baby Arugula Leaves
2 Asian Pears, Cut in Half, De-seeded, and Sliced into 40 slices
1 Tablespoom Balsamic Reduction
1 Tablespoon Honey
2 Tablespoons Chopped Pecans

Directions:
Pre-heat your oven to 375. Brush a large baking sheet with one tablespoon melted butter. Top baking sheet with slices of french bread. Brush the top of each slice with the other 2 tablespoons of melted butter. Bake in oven for 10 minutes, or until golden brown and crunchy. Remove slices from oven and place one slice of brie on each crostini. You can place it diagonally or lay it out lengthwise, whichever you prefer. Place the crostinis back in the oven for 5 minutes until brie is melted. Remove crostinis from oven and allow to cool for 1 minute. Top each crostini with a few sprigs of baby arugula, then top with 2 slices of the asian pear. Once each crostini has brie, arugula and asian pear, drizzle balsamic reduction onto each one. Repeat again with honey, and top with chopped pecans.