These Roasted Vegetable Lasagna Roll-ups are great for anyone who doesn't feel like assembling an entire lasagna! Also, don't limit yourself to the ingredients I have shared below, you could add a multitude of different vegetables or proteins!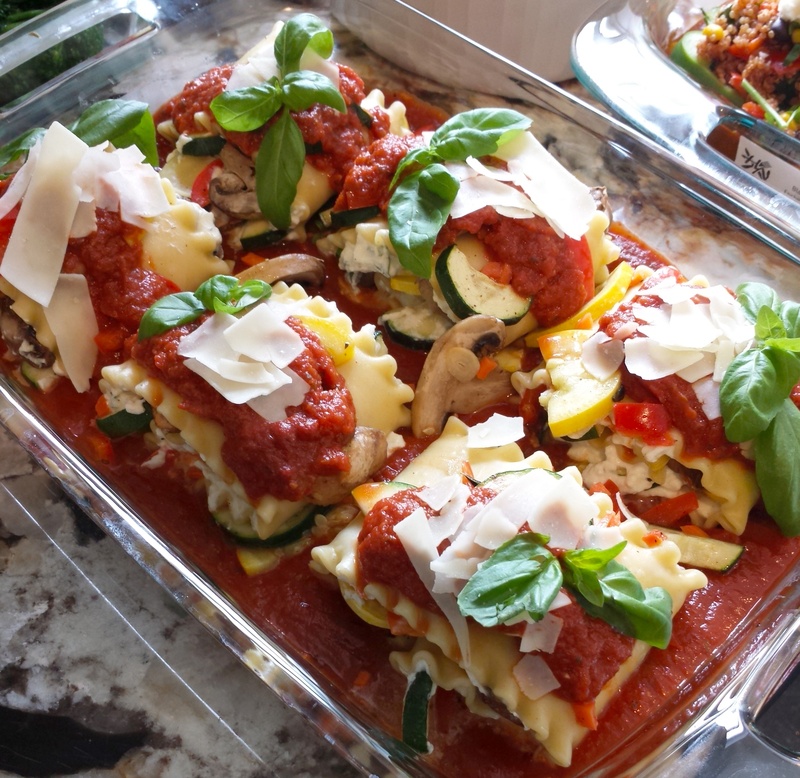 Serves: 4
Prep Time: 30 Minutes
Cook Time: 20 Minutes
By: Chef Hallie Norvet
Ingredients:
8 Lasagna Pasta Sheets, Pre-Cooked as Directed
1 Tablespoon Extra Virgin Olive Oil

1 Onion, Chopped Small
3 Cloves Garlic, Chopped Fine

1 Large Can Organic Tomato Sauce

2 Tablespoons Tomato paste

1 Tablespoon Basil
1 Tablespoon Oregano
Salt and Pepper
2 Zucchini, Halved and Sliced into Half Moons
2 Yellow Squash, Halved and Sliced into Half Moons
8 Large Button Mushrooms, Sliced
2 Red Bell Pepper, Chopped
1 Carrot, Peeled and Chopped Fine
1/2 Tablespoon Dry Italian Herb Seasoning
1 8 oz. Container Whole Milk Ricotta Cheese
2 Tablespoons Fresh Basil, Chopped
1/2 tsp Garlic Salt
1 Ball Fresh Mozzarella, Sliced Thin
Directions:

In a medium stock pot, heat 1 tablespoon olive oil over medium high heat for 1 minute. Add onion and garlic to pot and saute for 3 minutes until translucent. Add tomato sauce and tomato paste to pot and bring to a simmer. Simmer sauce over medium low heat for 40 minutes. Add 1 tablespoon basil and oregano to sauce. Season with salt and pepper to taste. Reserve sauce on back burner.
Pre-heat your oven to 375 degrees. Drizzle 1 tablespoon olive oil onto a large sheet tray. Place chopped zucchini, squash, mushrooms, carrot and bell pepper onto sheet tray and season with dry italian herbs, salt and pepper. Place sheet on middle rack of oven and roast for 20 minutes. In the meantime, in a medium mixing bowl place ricotta, 2 tablespoons of fresh chopped basil and 1/2 tsp garlic salt. Mix and season with salt and pepper to taste.
Once your vegetables are done, allow them to cook for 10 minutes or so. On a clean cutting board, lay out one cooked lasagna sheet lengthwise. Scoop 1 tablespoon or so of ricotta mixture with a spoon and spread evenly over one side of lasagna noodle. Then, evenly place one or two sliced of evgetables the entire way down the roll. Be sure not to over stuff the rolls. A layer or two of vegetables will be fine and you can use the extra veggies later on. Once the entire roll is evenly cvered, place 1 or two slices of fresh mozzarella onto both ends of the roll. Then, roll those lasagna noodles up like a rug. It may get a little messy, but try to keep as much in the roll as possible. Place finished rolls to the side.
In a large baking dish, spread out your tomato sauce evenly amongst the pan. Be sure to save a cup of sauce or so for the top of the roll-ups. Place each roll up on top of sauce. Top each roll-up with any leftover vegetables and/or more mozzarella if you would like. Lastly, finish each roll-up with 2 tablespoons or so of sauce. Cover Roll-ups with aluminum foil and bake for 20 minutes at 375. Remove foil and broil for an additional minute or so if you would like a browner, crispier lasagna roll!