Polenta and mushrooms is one of my favorite comfort food combinations! Try out my Fried Polenta Sticks with Wild Mushroom Ragout and you will understand why. Be careful though, the polenta sticks are addicting! If you are short on time, most grocery stores sell pre-made polenta so you don't have to cook and cool freshly made polenta.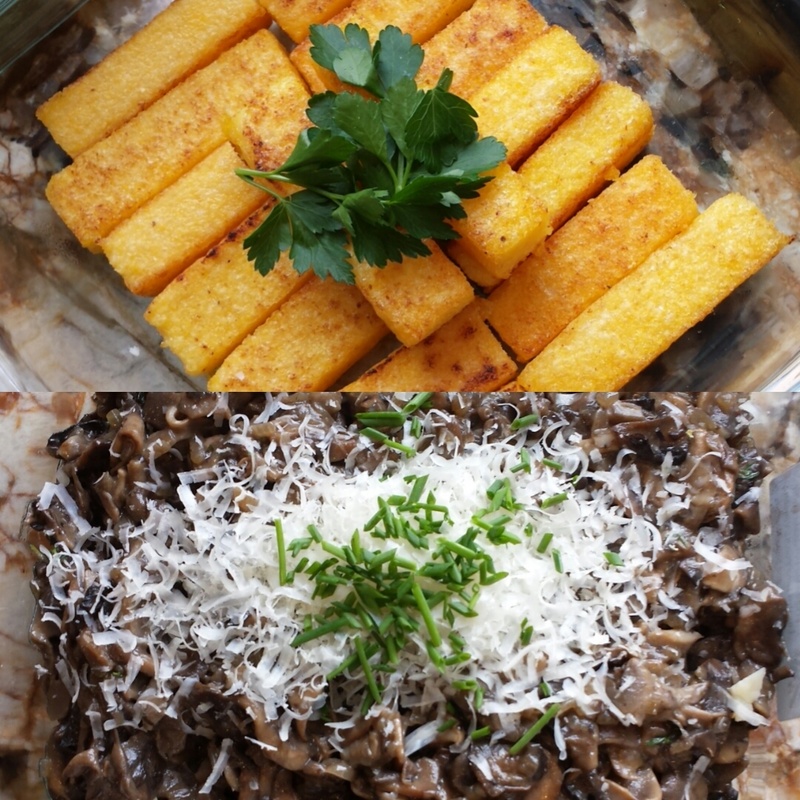 Servings: 3
Prep Time: 2 hours
Cook Time: 20 Minutes
By: Chef Hallie Norvet
Ingredients:
1 Box Polenta (Makes about 3 Cups)
1 Tablespoon Olive Oil

2 Shallots, Sliced Thin
1 Clove Garlic, Chopped
10 Medium Button Mushrooms, Washed

4 Portobello Mushrooms, Washed
4 oz. Oyster Mushrooms
4 oz. Chantrelle Mushrooms
3 Tablespoons Butter
1 Teaspoon Wondra Flour

1 Tablespoon Thyme, Chopped

1 Tablespoon Italian Parsley, Chopped
Salt and Pepper

3 Tablespoons Extra Virgin Olive Oil
1 Small Block Parmesan Cheese for Grating
Garnish:
Shaved Parmesan

Italian Flat Leaf Parsley
Chopped Chive
Thyme Sprig

Directions:
Make polenta according to package. Lightly oil a 8x8 baking dish. Gently pour hot polenta into the dish spreading out to 3/4 inch to 1 inch thick. Allow to cool for 5-10 minutes then transfer to refrigerator to cool for 2 hours until firm.
Pour 1 tablespoon olive oil into a medium stock pot over medium-high heat. Saute shallot and garlic until translucent, then add button mushrooms, portobello mushroom, oyster mushroom and chantrelle mushroom. Reduce heat to medium-low and "sweat" the mushrooms for 15-20 minutes until cooked thoroughly. Once the mushrooms are soft and fully cooked, add 3 tablespoons of butter to the mushroom mixture until melted. Bring mushroom ragout to high heat and sprinkle wondra flour into mushrooms. Wondra is a very fine flour that is used to thicken sauces and gravies without a roux. It will not impart a lot of "flour" flavor. Stir mushrooms until any sauce in the pot thickens and return ragout to low heat. Add in thyme and parsley and stir until incorporated. Season with salt and pepper to taste. Keep on very low heat until time to serve.
Pre-heat your oven to 250. Once your polenta has cooled, cut it into 1 inch by 2 inch sticks. Place a large saute pan over high heat and add 3 tablespoons of olive oil. Gently place each polenta stick into the oil and cook for 3 minutes on each side until golden brown. It is best to do this in a couple of batches to the polenta has room to crisp. Keep your first batch in the oven to keep warm until you are ready to serve.
When ready to eat serve, the mushroom ragout over a few polenta sticks, and shave fresh parmesan over the plate. So delicious. I want some now!