This bright and refreshing dish can be made with almost any type of firm white fish! Halibut would also be exceptional.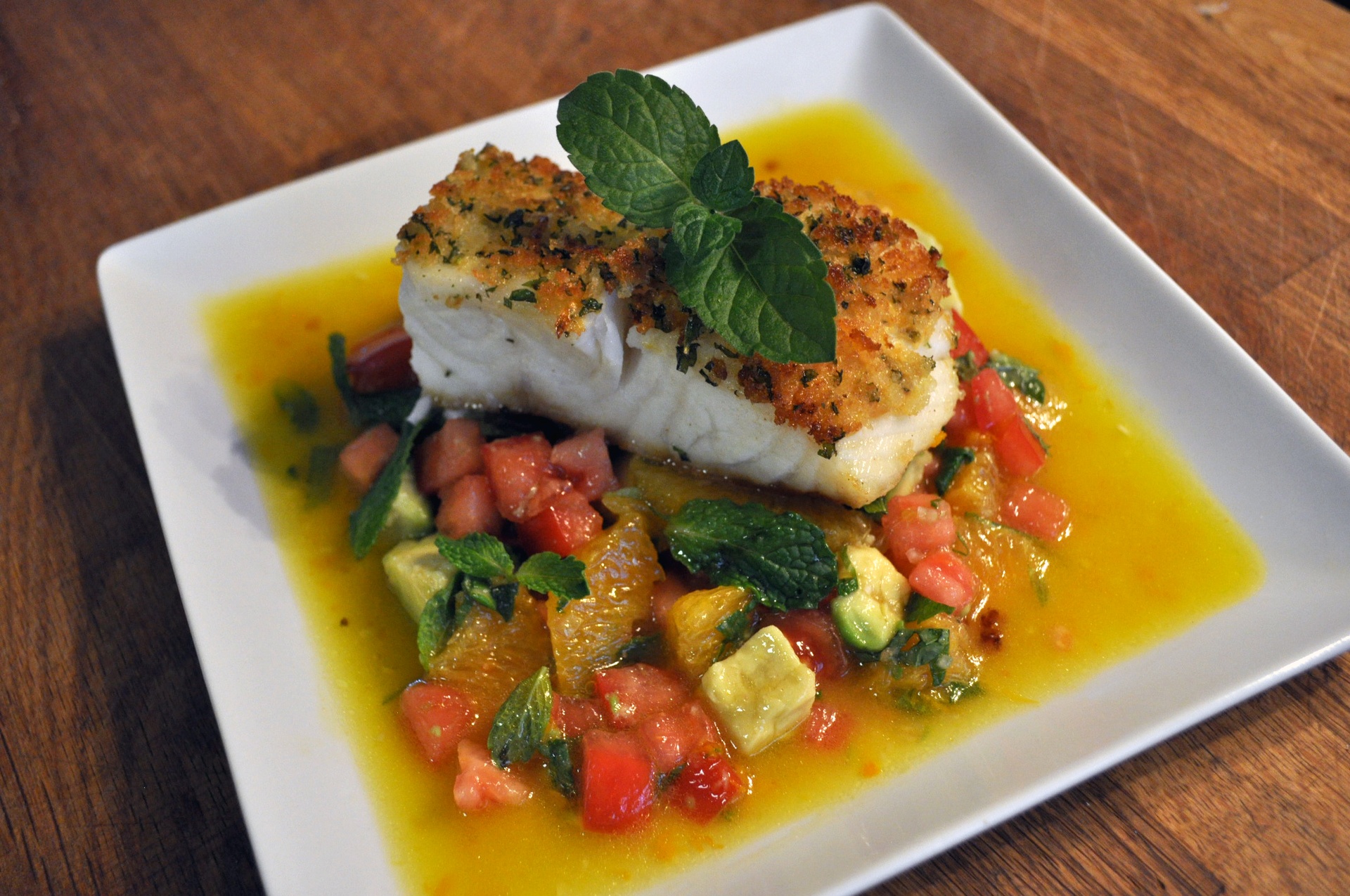 Servings 2
Prep Time: 20 Minutes
Cook Time: 15 Minutes
By: Chef Hallie Norvet
Ingredients:
For Salsa:
1 Large Tomato, Chopped
1 Medium Orange, Peeled and Chopped
1 Avocado, Chopped
10 Mint Leaves, Chopped Fine
Salt and Pepper
For Vinaigrette:
2 Tablespoon Apple Cider Vinegar
1 Tablespoon Dijon Mustard
1 Teaspoon Honey
1 Medium Orange, Juiced and Zested
¼ Cup Extra Virgin Olive Oil
Salt and Pepper

For Fish:
1 Tablespoon Extra Virgin Olive Oil
Salt and Pepper
1 Tablespoon Mint, Chopped
3 Tablespoons Panko Bread Crumb
2 Teaspoons Dijon Mustard
2 Sea bass Filets
Directions:
For Salsa: Add tomato, orange, avocado and mint into a medium mixing bowl until incorporated. Season mixture with salt and pepper to taste.
For VInaigrette:
In a medium bowl, whisk cider vinegar, honey and Dijon together. Slowly whisk in orange juice and zest. Once orange juice is incorporated, slowly whisk in extra virgin olive oil and season with salt and pepper.

For Fish:
Pre-heat oven to 375. Pat fish filets dry with a paper towel to remove any moisture. Season both filets with salt and pepper. Mix panko bread crumbs with chopped mint. Spread 1 teaspoon Dijon mustard onto each filet, then dip each filet Dijon side down, into panko mixture. Heat medium sauté pan over high heat and add olive oil to pan. Once pan is very hot slowly add filet into pan. Cook for one minute on crusted side until golden brown. Then flip fish and cook the other side for about 2 minutes. Move fish onto an oven safe pan and cook in oven for 7-10 minutes until cooked thoroughly.