| | |
| --- | --- |
| Posted on November 26, 2013 at 11:10 PM | |
These Green Apple Phyllo Turnovers are a great last minute dessert idea for the holidays! You can prepare them ahead of time and bake, or bake ahead of time and serve at room temperature!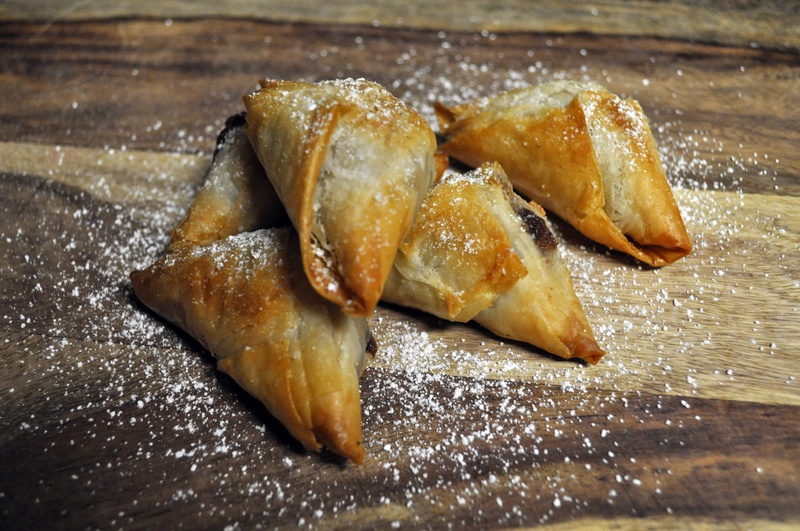 Servings:  10 Turnovers
Prep Time: 30 Minutes
Cook Time: 15 Minutes
By: Chef Hallie Norvet
Ingredients:
3 Tablespoons Butter
3 Medium Green Apples, Peeled and Chopped Small
2 Teaspoons Lemon Juice, Fresh
1 Tablespoon Cinnamon
¼ Teaspoon Nutmeg
½ Pack of Phyllo Sheets
½ Stick Melted Butter
Salt and Pepper
1 Tablespoon Confectioner's Sugar for Dusting
Directions:
Pre-heat oven to 375. Heat large sauté pan over medium-high heat. Add 3 tablespoons butter to pan and heat until melted. Add apples to pan with lemon juice, cinnamon and nutmeg. Saute until soft.
Remove Phyllo sheets from package, always keep a moist paper towel over sheets as they dry out very quickly, and pick out one sheet. Lay on a flat surface and brush with melted butter. Fold sheet in half vertically, brush with butter again and fold once more until you have a long rectangular strip. Add a small amount (1 tablespoon) of apple filling to bottom edge, then roll up into the form of a triangle, just as you would fold a flag. Brush the outside of the turnover with butter and place on cookie sheet. Bake for 10 minutes, then flip over for the remaining 5. Bake until golden brown and keep an eye on them as they can burn quickly. Let cool and dust with confectioner's sugar to garnish and enjoy!