This comforting Fall recipe is a great for anyone who would like to incorporate a gluten-free, vegetarian or vegan meal into their weekly routine.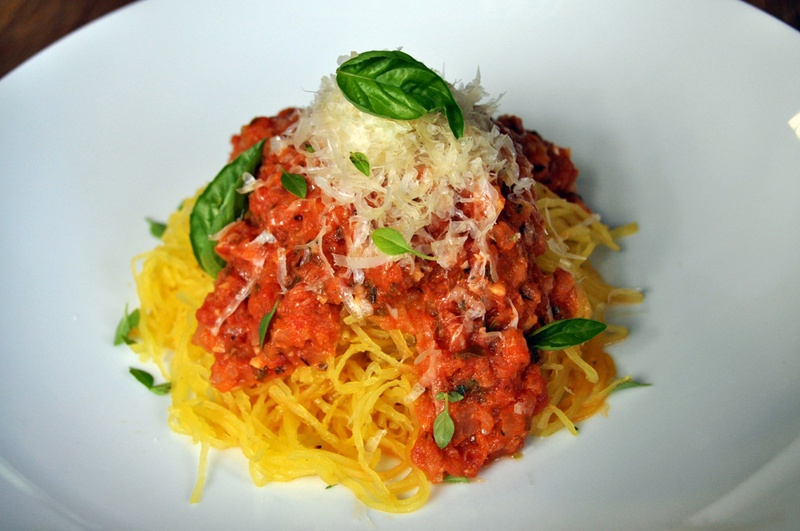 Prep Time: 20 Minutes
Cook Time: 1 Hour
Servings: 3-4
By: Chef Hallie Norvet
Ingredients:
3 Pound Whole Spaghetti Squash
1 Tablespoon Olive Oil
1/2 Cup Chopped Yellow Onion
2 Tablespoons Chopped Garlic
1 Can Organic Diced Tomatoes
1 Cup Chopped Fresh Roma Tomatoes
1/4 Cup Water

1/4 Cup Chopped Fresh Basil
1 Tablespoon Chopped Fresh Oregano
Salt and Pepper

Directions:
Pre-heat oven to 375. Place whole squash onto baking sheet  and bake on upper middle rack for 1 hour. Be sure to turn squash every 20 minutes or so to prevent the skin from burning.
While the squash is in the oven, start your pomodoro sauce. In a medium saucepan heat 1 tablespoon olive oil over mmeidum high heat. Add onions and garlic and saute until translucent. Add canned and fresh tomatoes, stir and bring to a boil. Add 1/4 cup water, basil and oregano and leave to simmer over low heat for 45 minutes. You can either leave the sauce chunky, or if you like a smoother sauce, you can bland it as well. Season the sauce with salt and pepper to taste.

Once your timer has gone off fo the squash, remove it from the oven and allow to cool for 10 minutes. Place squash onto cutting board length wise and carefully cut open with a knife. Use caution, as squash will still be hot. Once your squash is halved remove the seeds. Then, take a  fork and gently scrape/pull at the strands. Eventually, the strands will break free of the skin and you will have the "spaghetti" for your pomodoro sauce.
Serve squash warm, top with pomodoro sauce. Garnish with freshly grated parmesan cheese, basil or olive oil. Mangia!