Fall is finally here! One of my favorite Fall hors d'oeuvres is this Butternut Squash, Ricotta and Fried Sage Crostini. If you want to cut down on your prep time the day of your party, you can cook all of the ingredients ahead of time so all you have to do is assemble!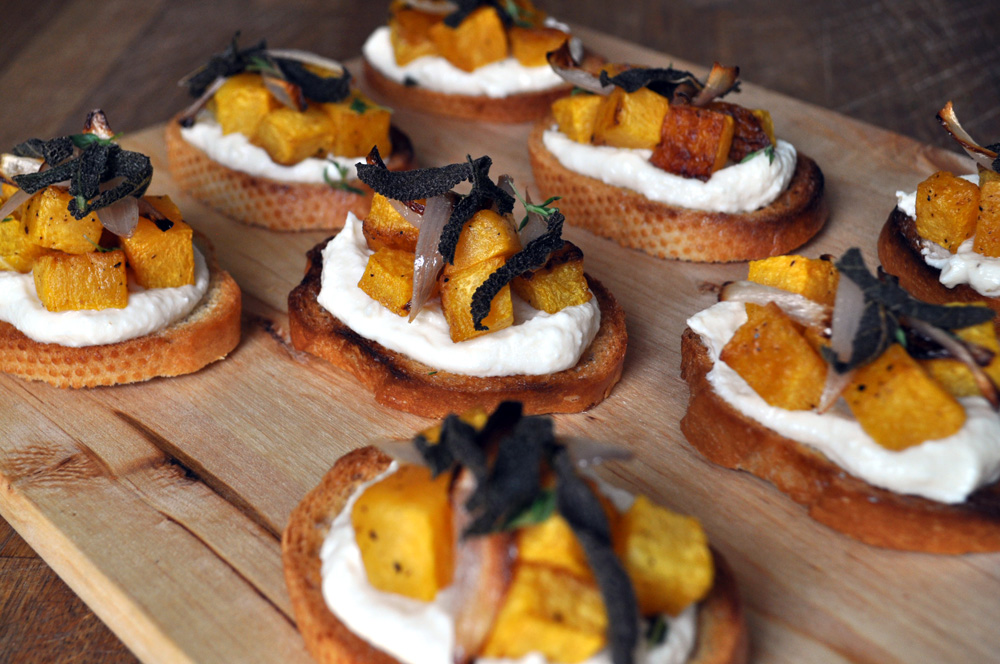 Prep Time: 45 Minutes
Cook Time: 5 Minutes
Servings: 20-25 Hors D'oeuvres

By: Chef Hallie Norvet
Ingredients:
1 French Bread Loaf, Sliced Into 20 Thin Slices
2 Tablespoon Melted Butter

2 Tablespoons Extra Virgin Olive Oil

1 Two Pound Butternut Squash, Peeled and Diced
2 Large Shallots, Sliced Lengthwise
Salt and Pepper to Taste
2 Tablespoons Butter

20 Sage Leaves
15oz. Container Whole Milk Ricotta Cheese
1/2 Tablespoon Honey

 1/2 Tablespoon Fresh Thyme Leaves
Directions:
Pre-heat oven to 375. Take one tablespoon of melted butter and brush it onto a baking sheet. Place each slice of bread face down and brush bread with remaining tablespoon of melted butter. Bake in oven for 12 minutes on center rack until golden and crunchy. Meanwhile, place chopped squash and roasted shallots onto sheet tray. Toss with olive oil, salt and pepper and bake in oven for 40 minutes on medium rack until roasted and soft. Remove squash from oven and allow to cool.
In a small saucepan over low-medium heat 2 tablespoon butter. When butter begins to turn brown, fry 5 sage leaves at a time until crunchy. Drain on a paper towel and reserve for assembly.
In a medium mixing bowl, add ricotta cheese, 1/2 tablespoon honey and a pinch of salt. Mix ingredients until smooth and incorporated.
Assembly:
Take crostinis, and top with a tablespoon of ricotta mixture. Top with squash, shallots, thyme and a fried sage leaf. If you like it a bit sweeter, you can drizzle with additional honey.