| | |
| --- | --- |
| Posted on September 5, 2013 at 8:05 PM | |
Heirloom Tomato Basil Bisque with Grilled Cheese "Fries"
This grilled cheese and tomato soup combo is great for the kids after school or for the adults whenever they need a simple, comforting meal. Each grilled cheese is cut into quarters so they are perfect for dipping and sharing, or not!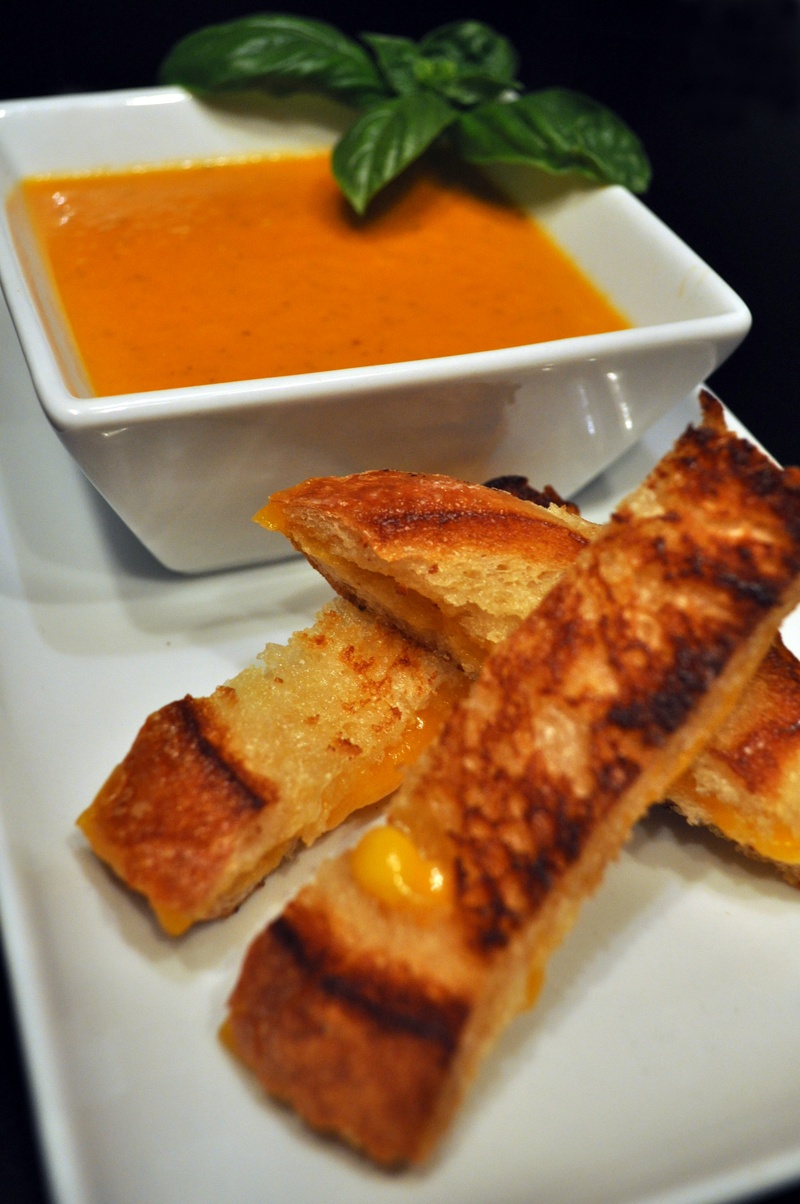 Prep Time: 5 Minutes
Cook Time: 15 Minutes
Servings: 2
By: Chef Hallie Norvet
Ingredients:
For Soup:
3 Medium Heirloom Tomatoes, Quartered
¼ Cup Basil, Chopped
1 Cup Water
¼ Cup Heavy Cream
Salt and Pepper to Taste
For Sandwich:
4 Slices Sourdough or White Bread
4 Slices Medium Cheddar Cheese
1 Tablespoon Butter
Directions:
Place tomatoes, basil and water into a small sauce pot and bring to a boil. Once boiling, reduce heat to low and cover for 5 minutes. Remove lid, and with a pair of tongs remove all tomato skins from pot (they should peel off easily). Replace lid on pot and continue cooking on low heat for another 5 minutes. 
Prepare your grilled cheeses by placing two slices of cheese between two slices of bread. Melt butter in a medium sauce pan over medium heat and add sandwich. "Grill" each side over medium heat until golden, toasty and cheese is melted. Remove from pan and place on cutting board to cool. Cut sandwich into quarters.
Remove lid from pot, take tomato mixture and blend with immersion blender, or place into blender to blend. Please use caution when blending anything hot. Slowly add cream and blend until smooth. Season with salt and pepper and serve in a small bowl with grilled cheese fries on the side.