Shaved Zucchini and Feta Salad
with Avocado and Meyer Lemon Dressing
The zucchini is raw in this dish.
And, if you have never tried raw zucchini with a little lemon and salt, you will be forever changed!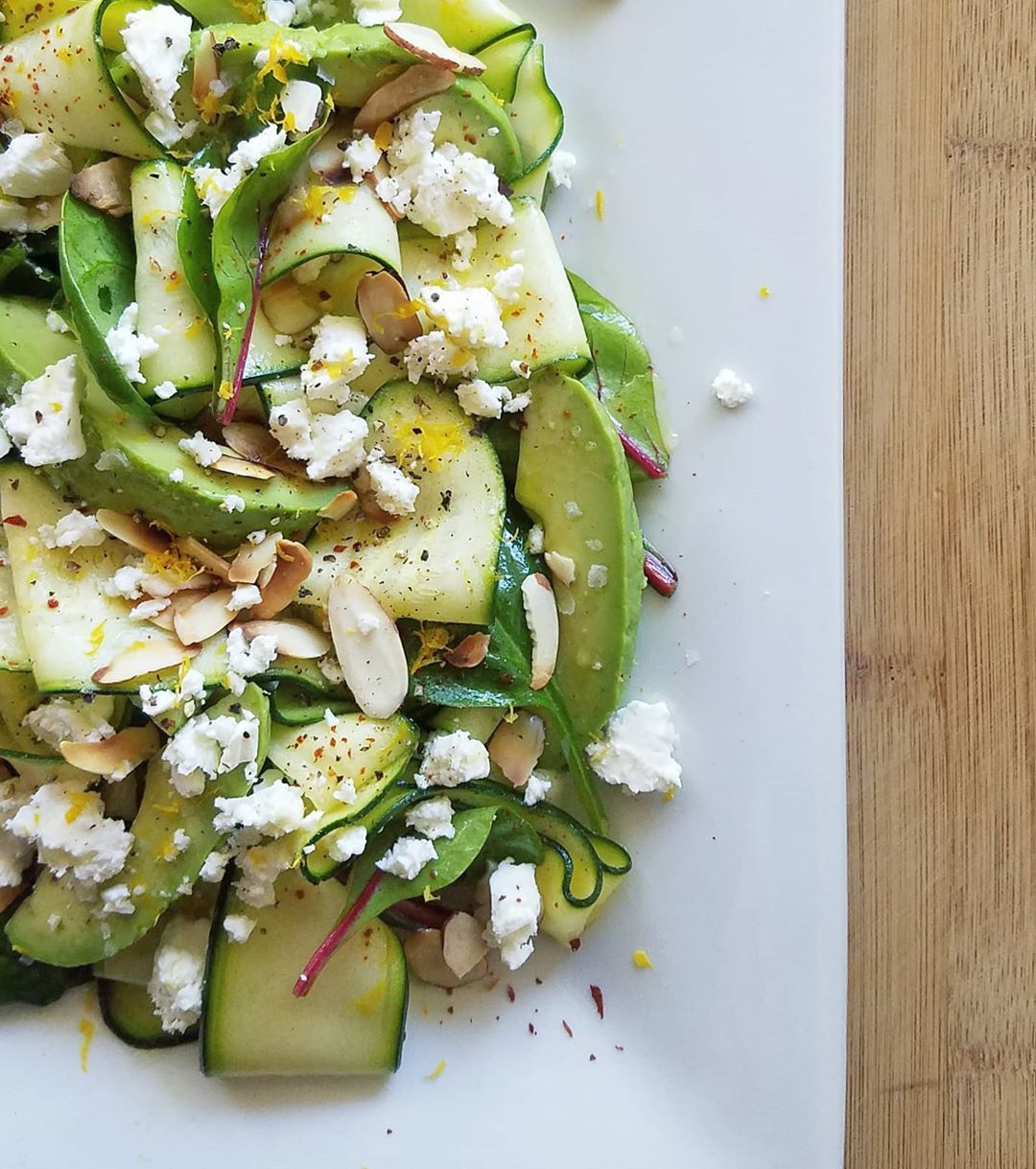 Makes: 1-2 Portions
Prep Time: 5 Minutes
Cook Time: None
By: Chef Hallie Norvet
Ingredients:
Salad:

1 Large Zucchini
1/2 Cup of Greens (Baby Spinach, Mesclun, Kale Etc.)
1/2 Avocado, Peeled and Quartered

1 oz. Feta, Crumbled
1 Tablespoon Sliced Almonds, Toasted
Dressing:
1 teaspoon Honey
1/2 Meyer Lemon (or Regular Lemon), Juiced
Salt, Large Pinch
1 Tablespoon Olive Oil
Directions:
Cut off the stem end of the zucchini. Take a wide peeler, and peel long-ways from end to end on the zucchini. Once you peel about halfway through the zucchini, flip the zucchini over and do the otherside. Peel until you can peel no more. Prepare remaining salad ingredients and put aside.
In a small bowl, add honey, lemon and salt for dressing, then whisk lightly until incorporated. Then, slowly drizzle olive oil into lemon juice mixture, until your dressing is mixed well. Taste and season again with salt if desired.
In a medium mixing bowl, add shaved zucchini and greens. drizzle the dressing around the outer edge of the bowl, and use clean hands or tongs to toss zucchini until coated with dressing. Plate onto one large plates, or multiple small plates, and garnish with feta, avocado and sliced almonds.