Buffalo Chicken Stuffed Jalapeños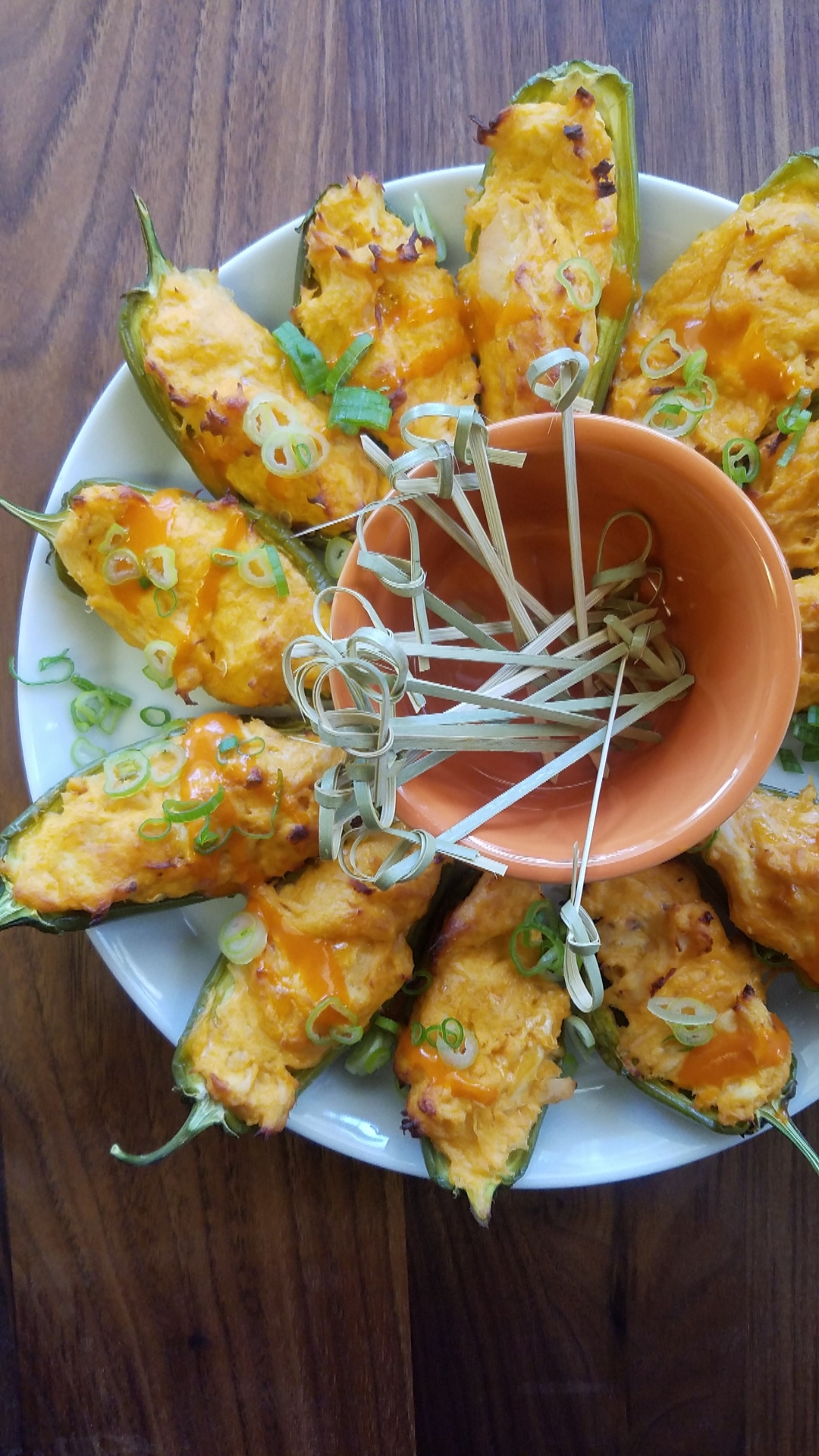 Summer is here and the grill is fired up, what else do you need? Well, coming from my experience, you need these Buffalo Chicken Stuffed Jalapeños at your next cook-out. They are a crowd favorite, and you can never make enough. They're made from just a few ingredients, and you can even make them ahead of time so you can throw them on the grill, or into the oven the next day.
The filling is made from a modified buffalo chicken dip recipe, so feel free to search and take inspiration from those recipes as well. Just add a bit of extra cheddar so they're hearty enough to fill the pepper.
Makes: 28 Jalapenos
Prep Time: 30 Minutes
Cook Time: 30 Minutes
By: Chef Hallie Norvet
Ingredients:
For the Chicken:
3/4 Pound Chicken Breast
1/4 Cup of Your Favorite Buffalo Sauce
Water or Chicken Stock
For the Peppers and Dip:

1 Package Cream Cheese, Softened
1.5 Cup Shredded Cheddar Cheese
3 Tablespoons Ranch Dressing

1/4 Cup of Your Favorite Buffalo Sauce
1 tsp. Granulated Garlic
Salt and Pepper to Taste
14 Jalapenos, Halved, Cored and De-Seeded

Directions:
1. Add chicken and buffalo sauce to a medium stock pot. Add water or stock to pot until liquid level reaches above the chicken.
2. Bring the contents of the stock pot to a boil by turning your burner to high heat. Allow chicken to come to a boil, then, reduce heat to medium-low.
3. Allow chicken to braise for 30 minutes, until liquid has reduced then turn the heat off.
4. Allow chicken to cool slightly and pull or shred your chicken with two forks. Add chicken and remaining liquid to a medium sized mixing bowl.
5. Add cream cheese, cheddar cheese, ranch, buffalo sauce, granulated garlic and a light dust of salt and pepper to the mixing bowl with the chicken. Take a spatula and fold ingredients together until everything is combined. If you like your buffalo chicken a little spicier, you can add an extra tablespoon or two of buffalo sauce to the mixture at this point.
6. Preheat your oven 375 degrees.
7. Line a sheet tray with parchment paper and lay each halved and cored jalapeno cored side up, so you can fill them easily.
8. Take about 1 tablespoon of the buffalo chicken mixture and fill each jalapeno, until all the jalapenos are filled, or until the filling is gone.
9. (Optional) Finish each jalapeno with a bit of extra cheddar.
10. Bake stuffed jalapenos on the middle rack of your oven for 25-30 minutes until jalapenos are fully cooked.
11. Remove stuffed peppers from oven and finish with additional buffalo sauce if desired. I garnished mine with some scallions too.
Enjoy and let me know how you like them!