Pickled Sweet Peppers + Garlic + Cilantro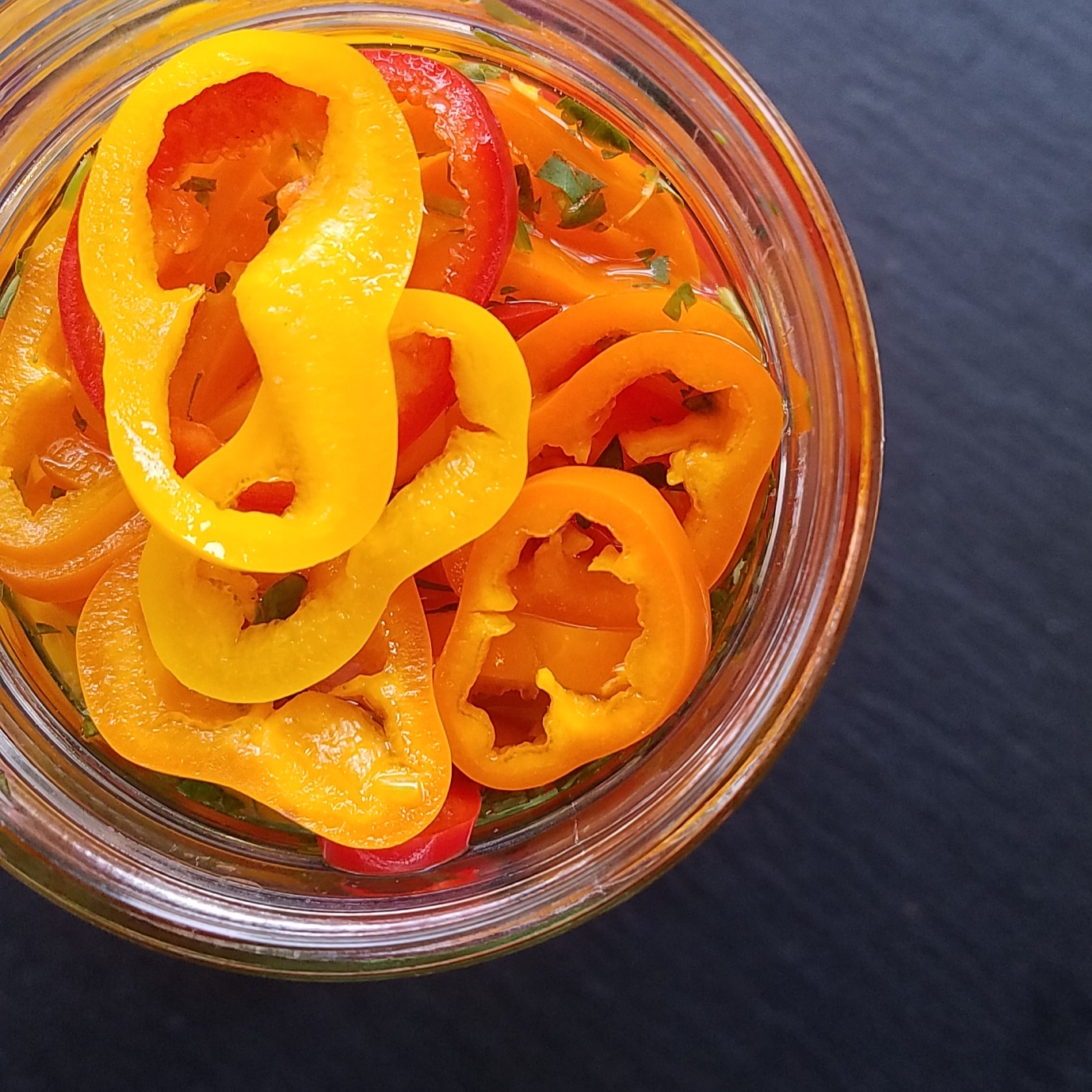 Anyone who knows me will tell you, I love pickles. So much that people gift me jars of pickles on my birthday. Odd, but true.
It's not my birthday yet, but it's always a good time to make a jar of these Pickled Sweet Peppers + Garlic + Cilantro #peterpiper
I can eat these peppers on their own, or with just about anything. But, my favorite way to eat them is on a burger, in a salad, or as a garnish for anything rich and delicious.

They're sweet, crunchy, and full of bite from the brine. I have not had these with cheese yet but, it's on my to-do list. I'm thinking goat cheese. Speaking of to-do lists, you should add these to yours!
Makes: 16oz. Jar
Prep: 5 Minutes
Cook Time: 10 Minutes
By: Chef Hallie Norvet

Ingredients:
• 2 cups sliced sweet peppers
• 1 tablespoon fresh cilantro, chopped
• 4 garlic cloves, sliced
• 1/4 cup rice wine vinegar
• 3/4 cup warm water
• 2 tablespoons sugar
• 2 teaspoons sea salt
Directions:
1. Place peppers, cilantro, and garlic into a jar with a tight fitting lid.
2. In a small saucepan, heat vinegar, water, sugar, and salt over medium heat.
3. Stir until sugar and salt are dissolved. Remove from heat.
4. Pour the liquid over the peppers in the jar. Add additional water if needed to cover peppers.
5. Cover jar with lid and refrigerate for at least 1 hour before serving. Store for up to 5 days in the fridge.