| | |
| --- | --- |
| Posted on November 12, 2017 at 9:35 AM | |
Braised Belgian Endive with Lemon and Tarragon
I will admit (way) back in culinary school I had no idea why anyone would ever want to braise Belgian endive. "It's just lettuce." I thought. Then over my many years of cooking I've realized endive is so much more than "just lettuce."
First of all, it's not just lettuce. It's in the chicory family, the same type of green as frisee, raddichio, and escarole. Chicory leaves, buds and roots all have specific beneficial qualities such as aiding in digestion and boosting immunity.
Secondly, endive's pleasant bitterness and naturally sweet, nutty flavor pairs perfectly with brown butter and lemon. Raw or cooked it's straight up delicious. Don't underestimate these little beauties like I once did.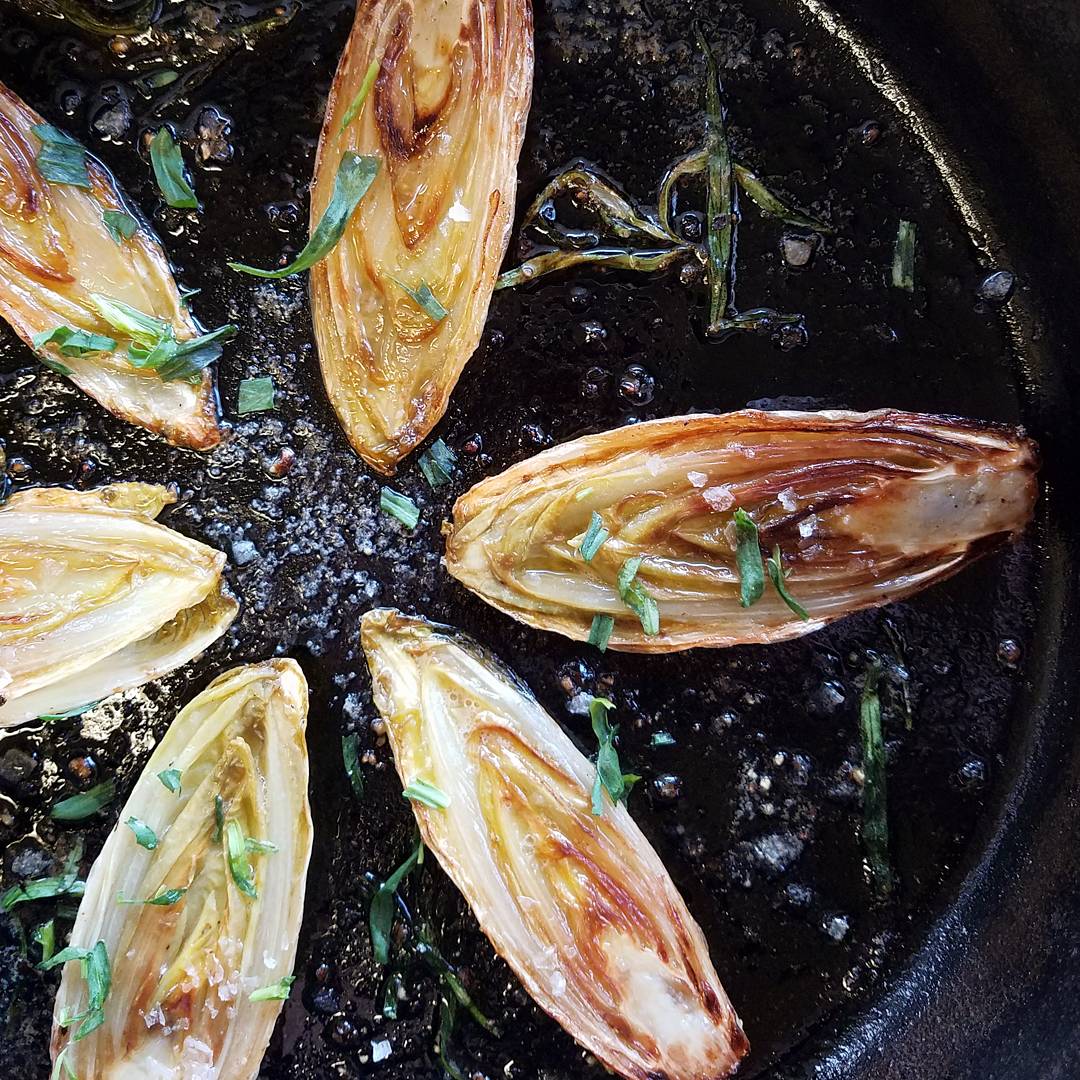 Braised Belgian Endive with Lemon and Tarragon

Serves: 2 (as a side)
Cook Time: 30 minutes
Prep Time: 5 Minutes
By: Chef Hallie Norvet

Ingredients:
6 Belgian Endive, Trimmed and Cleaned, Halved
4 Tablespoons Salted Butter
1 Lemon, Juiced
1 Teaspoon fresh tarragon
Sea Salt Flakes
Fresh Cracked Pepper
Tarragon/Parsley (Garnish)
Directions:
Heat a large cast iron skillet over medium heat. Add 3 tablespoons butter to pan until melted. Place endive into pan cut side down. Increase heat to high for 1 minute, then reduce heat to low. Add 1/2 of the lemon juice to pan, sprinkle with salt and pepper, and place a tight fitting lid over the skillet. Braise over low heat for 20-30 minutes until fork tender. Remove endive from pan and serve cut side up. Add 1 tablespoon butter to pan until melted, add remaining lemon juice, and serve over endive as a sauce. Garnish with fresh tarragon and/or parsley and additional salt, if needed