Mojito Watermelon Feta Salad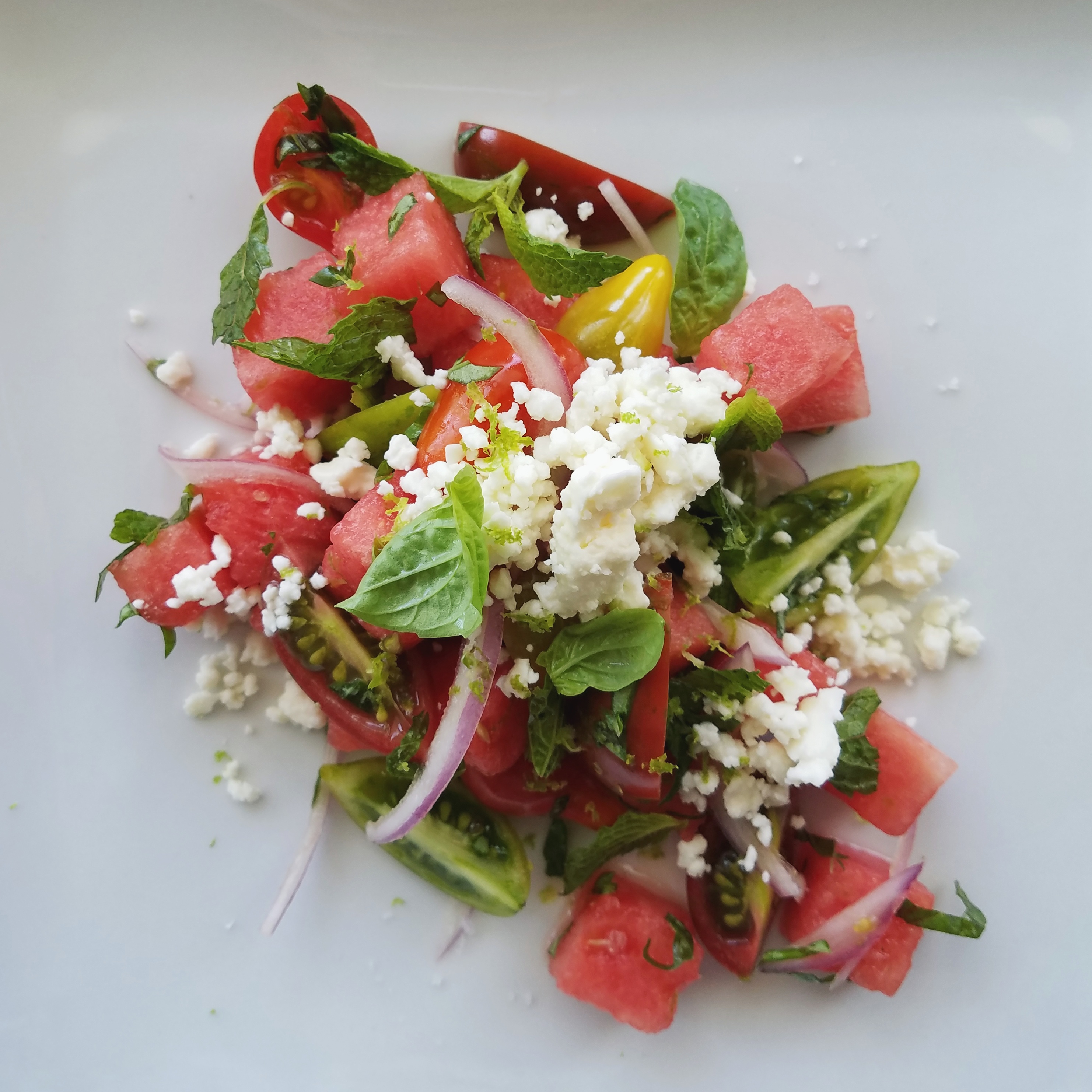 Whoa, okay. All of the sudden it is Summer here in Los Angeles and the client's are craving cold dishes again. I am personally thrilled about this because Garde Manger, or the cold station, in the restaurant is one of my favorite places to be. I think it takes a lot of finesse and skill to make something fantastic without fire, or heat in the kitchen.. and this salad will prove why.
This Salad is a twist on a classic watermelon, feta and mint salad, only I upped the game a little bit by adding some fresh lime juice, zest, shaved red onion and heirloom tomatoes. It gives the salad a different texture contrast, and the acid from the lime pops! It's referenced to as a mojito salad as a classic Mojito contains lime, mint and sugar, which are all represented here. You'll want to eat a whole bowl of this and pass on the BBQ. I'm super serious.
Serves: 4-5

Prep Time: 10 Minutes

Cook Time: None

By: Chef Hallie Norvet
Ingredients:
1 Whole Baby Watermelon, De-rined, Cut into 1/2 inch cubes
1 Cup Cherry Heirloom Tomatoes, Halved
1/4 Cup Shaved Red Onion, As Thin as You Can Slice
1.5 Tablespoon Fresh Basil, Chopped
1.5 Tablespoon Fresh Mint, Chopped
2 Limes, Juiced and Zested, Keep Both Zest and Juice Separate
Sea Salt

1/4 Cup Feta, Crumbled
Directions:
Place all ingredients except for salt and feta cheese into a mixing bowl. Toss gently with a spatula until incorporated, season with salt. Plate cantents of bowl into serving bowl or plate.
Top with feta cheese crumbles.
Garnish with additional lime zest, basil elaves, or mint leaves.