Turmeric Herb Falafel

It's one of those nights where you look in the fridge and you have no protein what-so-ever.. and you're definitely not heading to the grocery store.. So you look in the cupboard and what do you see? Garbanzo beans! The savior of all things. Hahaha let's turn this can of bans into something amazing. Like my Turmeric Herb Falafel!
Traditionally falafel is made with fresh or dried chickpeas, since I'm not going back to the store, I'm using canned. It's just a few ingredients into a food processor and you'r golden. As golden as the crispy edges of these falafel.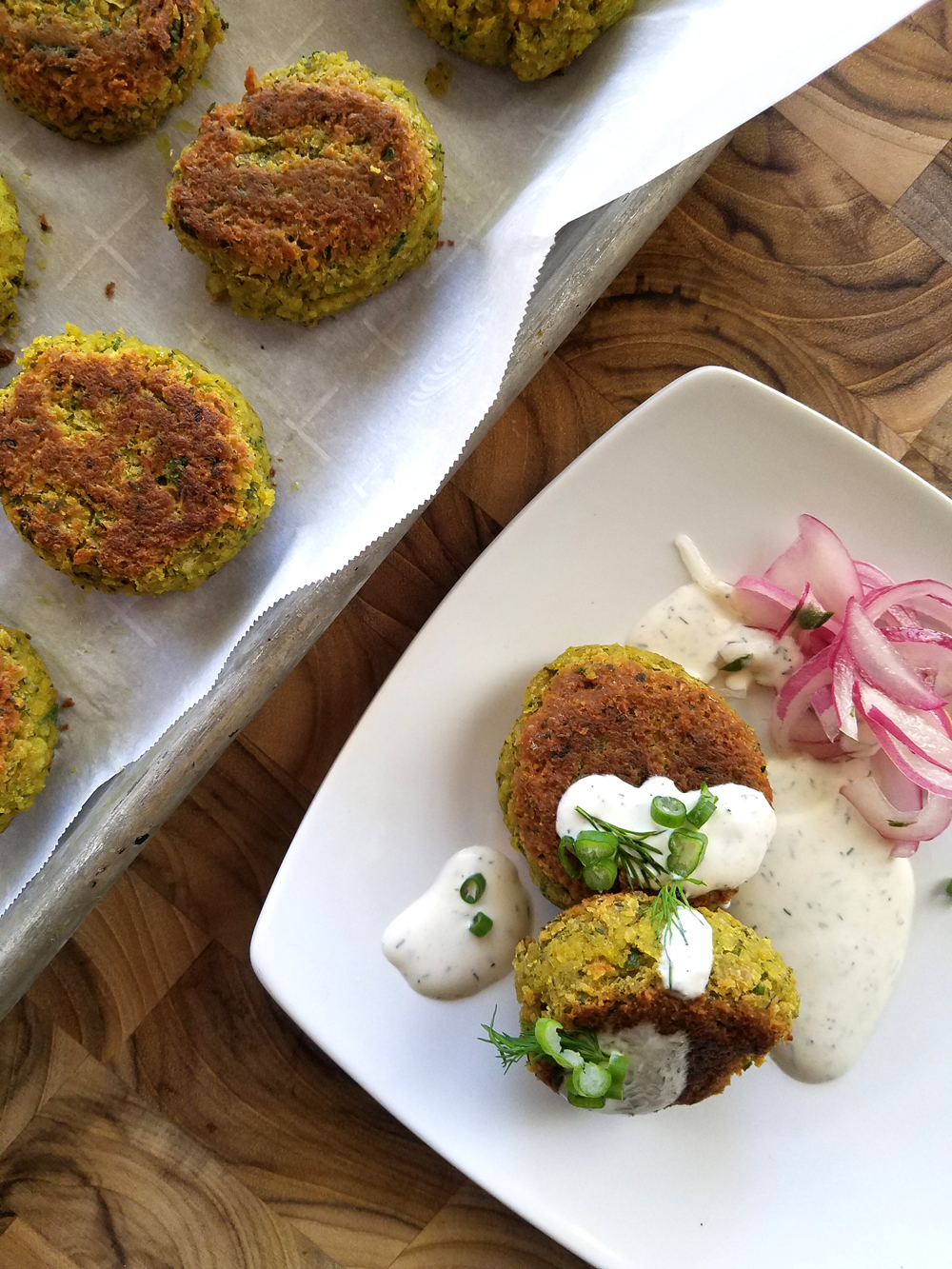 Makes: 12+ Falafel
Prep Time: 30 Minutes

Cook Time: 10 Minutes

By: Chef Hallie Norvet
Ingredients:
Falafel:

1 Can Garbanzo Beans, Drianed, Patted Dry
1/4 Cup Fresh Parsley, Chopped Fine
1/4 Cup Scallion, Chopped Fine
3 Tablespoons Fresh Dill, Chopped Fine
2 Clove Garlic, Chopped Fine
1 Medium Shallot, Chopped Fine
1/2 Tablespoon Cumin
1/2 Teaspoon Turmeric
Dash of Curry Powder

1 Egg
1/4 Cup Breadcrumb
Large Pinch Salt and Pepper

Olive Oil

Tahini Dill Yogurt:
1/2 Cup Greek Yogurt
1 Tablespoon Fresh Dill, Chopped
1/4 Cup Tahini
Juice of One Lemon
1 Teaspoon Honey
Dash of Cumin

Salt and White Pepper
Directions:
Place all ingredients except for olive oil into a food processor. Use the pulse button to blend garbanzo and herb mixture until a consistency of chunky peanut butter, or smoother if you prefer. If the mixture is too wet, add a bit more breadcrumb. Allow to sit for 10 minutes.
Roll garbanzo and herb mixture into small one inch balls, then flatten a bit with your palm so it create a thick disk. Do this to all falafel and then they're ready to fry.
For the yogurt, mix all ingredients togetehr in a small bowl. Chill and allow flvors to incorporate while you cook your falafel.
In a medium sauce pan, pour a thick layer of olive oil, about 1/4-1/2 inch thick. Heat pan over medium-high heat. Once pan is hot, gently and carefully drop in falafel flat side down. Allow to crisp up for 1-2 minutes until golden brown. flip falafel and repeat on other side, if needed, add a bit more olive oil to the pan. This is called a "shallow-fry." Keep falafel warm in a 275 degree oven or enjoy immediately inside a pita pocket or as is, served with a bit of tahini-dill-yogurt!
I also love my falafel with hot sauce made from fresh peppers, and some pickled onions. YUM!