| | |
| --- | --- |
| Posted on November 12, 2016 at 10:30 PM | |
My other favorite season of the year is Fall. There something so special about Fall flavors.. colors.. and this Roasted Yam, Bleu Cheese and Candied Walnuts dish. This would be perfect as a side dish at your Thanksgiving feast, or for a quick lunch or dinner that's full of fiber and vitamin C.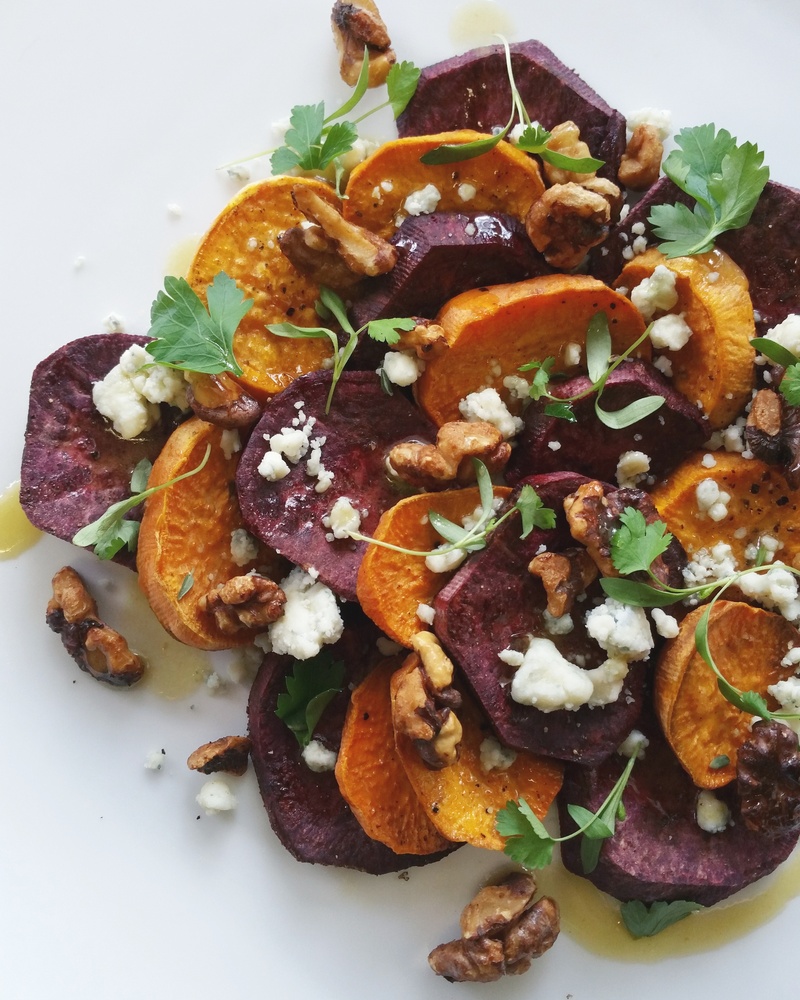 Makes: 5 Portions
Prep Time: 5 Minutes
Cook Time: 30 Minutes
By: Chef Hallie Norvet
Ingredients:
2 Tbsp. Brown Sugar
1 Tbsp. Water

1/2 Cup Walnut
Olive Oil

2 Medium Jewel or Garnet Yam, Peeled and Cut into 1/3 Inch Coins

1 Large Purple Yam
1 tsp Fresh Thyme, Plucked
Salt and Pepper
Bleu Cheese
For the Dressing:

1.5 Tbsp Champagne Vinegar
1 Tbsp. Honey
1/2 Tbsp. Dijon
1.5 Tbsp Olive Oil

Salt and Pepper

Garnish:

Micro Cilantro, Parsley

Directions:
Prepheat oven to 375 degrees.
In a small sauce pan melt 2 tbsp brown sugar with 1 tbsp water until dissolved. Coat walnuts and place walnuts onto a parchment lined sheet tray. Place sheet tray onto middle rack of oven and bake for 10 minutes. Turn over, and bake for another 3 minutes. Remove from oven when cool.
On a separate large sheet tray, drizzle 1 tbsp olive oil over another parchment lined sheet tray. Then place yams flat down on sheet tray until filled side to side. Do not stack on top of one another. Season with fresh thyme, salt and peper. Bake for 30 minutes until tender. Remove from oven and allow to cool for 5 minutes.
"Scallop" potatoes onto a place and finish with bleu cheese. Allow to melt slightly. In a small mixing bowl, whisk together champagne vinegar, honey, dijon, olive oil and salt and pepper to taste. Drizzle vinaigrette mixture over yams. Garnish plate with candied walnuts and fresh herbs of your choice. Serve warm.