Sometimes, you just need something that satisfies every taste. Spicy, crunchy, salty, sweet and sour.. These Pan Fried Chicken Gyoza with Red Thai Curry Sauce take a little time to make but are so worth it in the end.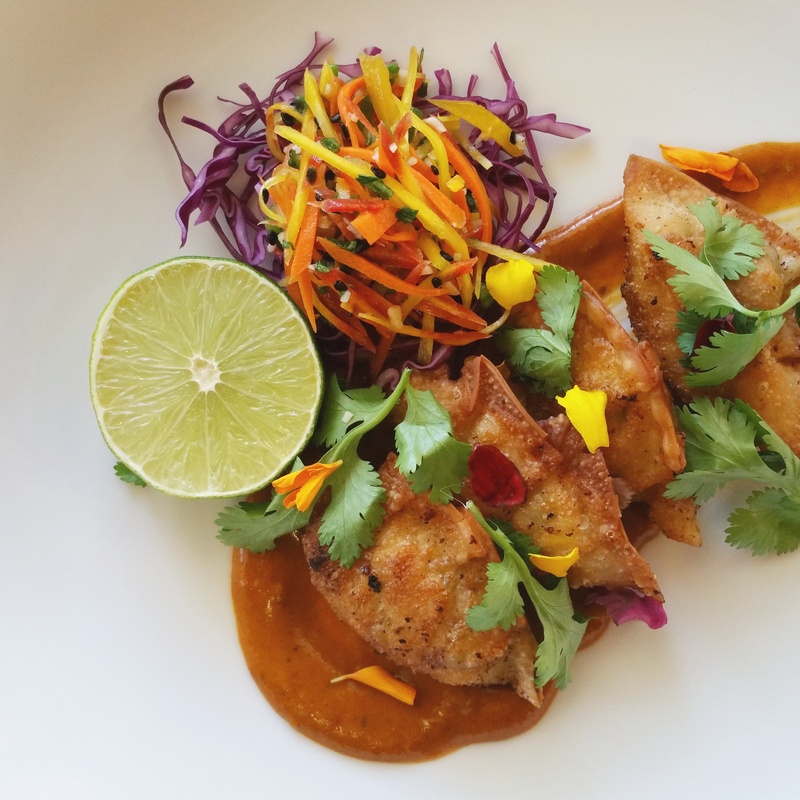 Makes: 30+ Gyoza
Prep Time: 30 Minutes
Cook Time: 20 Minutes
By: Chef Hallie Norvet
Ingredients:
Sauce:
3 Tablespoons Ghee or Clarified Butter

1 Yellow Onion
3 Tablespoons Chopped Fresh Ginger, Skinned

2 Tablespoons Chopped Fresh Garlic

1 Tablespoon Chopped Fresh Lemon Grass
1/3 Cup Red Curry Paste
1 Can Coconut Milk

2 Tablespoons Honey

1/2 teaspoon Turmeric
1/2 Cup Chicken Broth
1 Teaspoon Fish Sauce
Dash of Salt
Juice of 1 Lime
Dash of White Pepper
Pot Stickers:

1 Pound Ground Chicken
1 Egg

1/2 Cup Scallion
2 Tablespoons FInely Chopped Fresh Ginger, Skinned
1 Tablespoons Chopped Fresh Garlic
1 Tablespoon Cilantro
1 Tablespoon Soy Sauce
1 Teaspoon Sambal Olek or Sriracha

1/2 teaspoon Sesame Oil

1 teaspoon Corn Starch
1 Pinch Salt
1 Package Round Gyoza Wrappers
Small Bowl of Warm Water
Vegetable Oil for Frying
Directions:
For the Sauce:
In a small sauce pot over medium heart, melt 3 tablespoons butter. Add in onion, ginger, garlic and lemongrass. Saute until onions are translucent. Add in Red curry paste and stir over medium heat for one minute until fragrant. Add coconut milk, honey, turmeric, chicken broth and fish sauce to pot and heat over high heat until boiling. Reduce heat to low and simmer for 15-20 minutes.
Remove from heat and blend with immersion blender, or in food processor. Season with salt, lime and white pepper. If you'd like it even spicier, add in a generous pinch of crushed red pepper. Hold sauce over low heat until ready to serve gyoza.
For the Gyoza:
In a medium mixing bowl add all ingredients except gyoza wrappers, warm water and vegetable oil. Gently mix with a spoon until all ingredients are combined.
Lay out six individual gyoza wrappers at a time. Use your finger or a brush to lightly "paint" water around the edge of each wrapper. Place a small tablespoon of the chicken mixture in the middle of each wrapper. Then, fold the wrapper over like a taco, sealing the wet edges together. To seal the gyoza, start making a pleat from the left to the right. 2, 3 or 4  pleats should be fine. Repeat until you run out of the filling or wrappers
In a medium saute pan, heat a 1/2 inch layer of vegetable oil over medium heat until it reaches a temperature of 350 degrees. Then gently drop in a few gyoza at a time to fry. They usually require a turn over or two. The gyoza are done when they reach an internal temperature of 165+ degrees and are golden brown on the outside.
Serve gyoza with warm curry sauce, fresh cilantro, scallion and lime.