The best part about Summer coming to an end is the abundance of heirloom tomatoes in the markets. Days ago, I was craving a tart with the sweetness of these beautiful tomatoes and had to make one (or four). This recipe is quite simple, make a crust from scratch, chill it, roll it, fill it and bake it. Finish this off with some balsamic.. or a fried egg and some mixed greens and you've got a sophisticated brunch. Tell your friends it tooks hours to make.. when it only took one.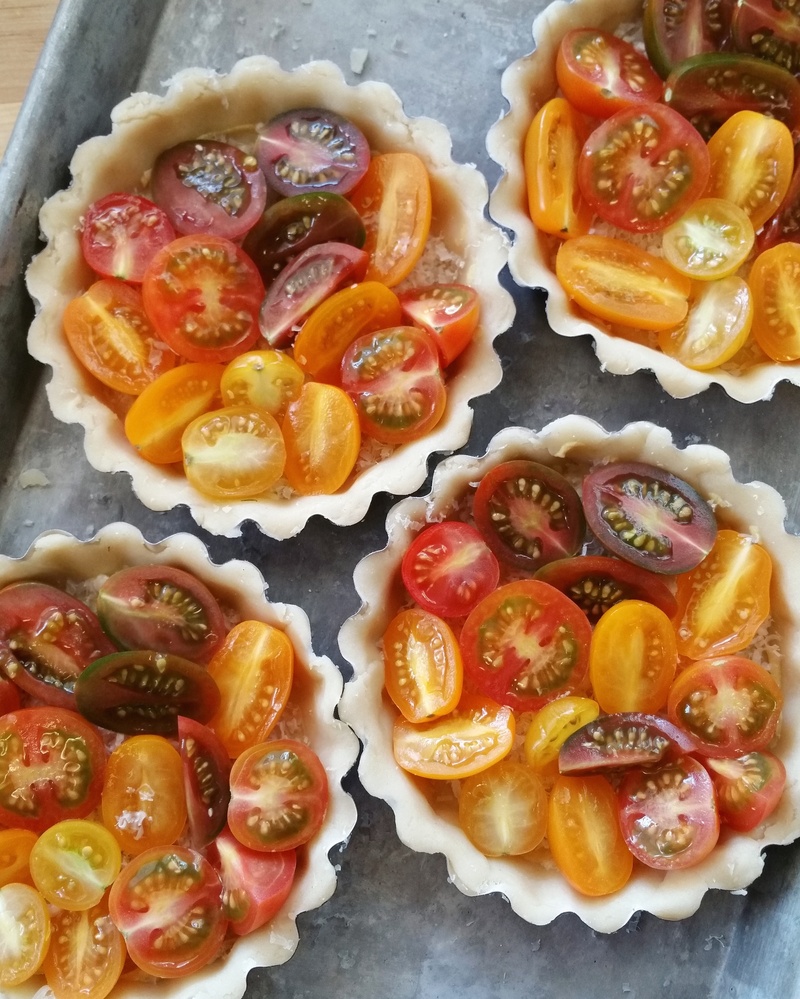 Makes : 6-8 Servings
Prep Time: 20 Minutes
Inactive: 30 Minutes
Cook Time: 35 Minutes
Ingredients:
Tart Dough:

3 cups all-purpose flour
12 tablespoons (1 1/2 sticks) cold unsalted butter, cut into 1/2-inch pieces
Kosher salt and freshly ground black pepper
3 tablespoons extra-virgin olive oil
4 tablespoons cold water
Tart:
1 tablespoon Dijon mustard
1/2 cup grated Gruyere cheese
2 Pound Heirloom Cherry Toamtoes, Halved

1/2 cup extra-virgin olive oil
2 tablespoons finely chopped fresh basil
2 tablespoons finely chopped fresh parsley
2 teaspoons finely chopped fresh thyme leaves
1 tsp finely chipped fresh rosemary sprigs

1 clove garlic, finely chopped
Directions:
For the dough: Combine the flour, butter and some salt and pepper using a pastry blender or 2 knives until the mixture resembles coarse meal. Mix in 2 tablespoons of the oil and the water just until the bottom of the mixture begins to cling together. If necessary, add an additional tablespoon of oil. Gather the dough into a ball and flatten into a disk. Wrap the disk in plastic wrap and chill for 30 minutes.
For the tart: Preheat the oven to 375 degrees F. Roll the chilled dough into a 14-inch circle and place into a 12-inch tart pan with a removable bottom. Chill in the refrigerator for 15 minutes.
Spread the mustard over the bottom of the tart shell. Sprinkle the Gruyere evenly over the mustard and place the tomatoes seed side up over the Gruyere. Bake on the middle shelf of the oven for 30-35 minutes.
Mix together the olive oil, basil, parsley, thyme and garlic in a small bowl. Brush two-thirds of the mixture over the finsihed tart. Remove the tart and cool briefly before serving. Serve warm with the remaining herb oil.
Top with a fried egg, more gruyere, balsamic reduction or enjoy as is.