| | |
| --- | --- |
| Posted on August 9, 2016 at 3:40 PM | |
Bacon. Yes, bacon. Can it get any better? Well apparently, it can. This recipe for my Black Pepper Candied Walnut Bacon will have you returning for slice after slice. Perfect as a snack, or on a sandwich, salad or with brunch these tasty morsels are not only delcicious, but simple to make.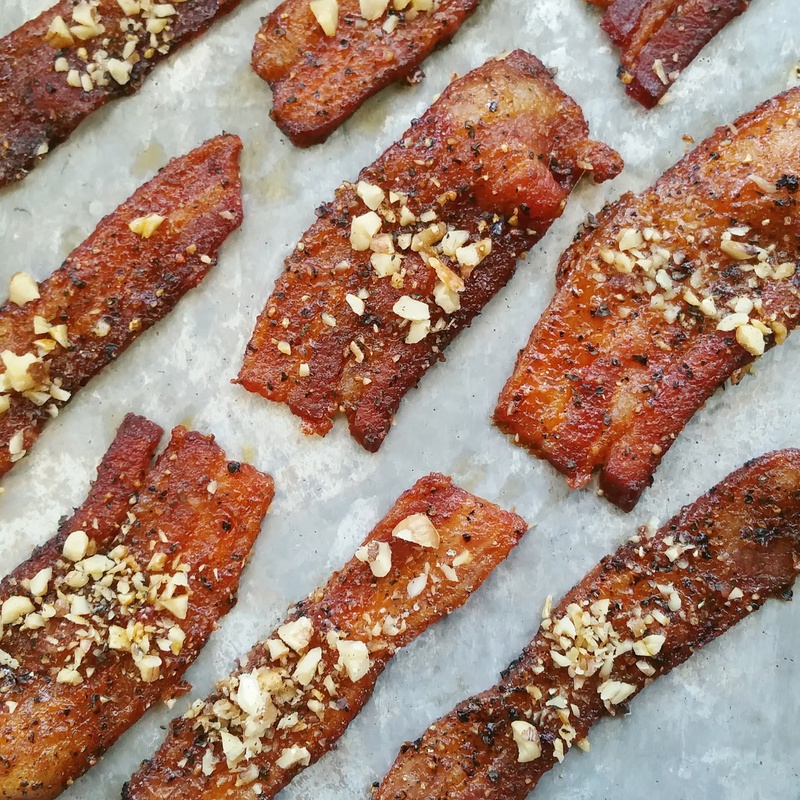 Serves: 2-3
Prep Time: 5 Minutes
Cook Time: 25-30 Minutes
By: Chef Hallie Norvet
Ingredients:
1 Pound Smoked Thick Cut Bacon, Cut in Half
1/2 Cup Brown Sugar
1/2 tsp Smoked Paprika
1 tsp Fresh Cracked Black Pepper
1/4 Cup Chopped Walnuts
Tip:
If you'd like a spicy version, add a sprinkle of cayenne pepper or a tablespoon of Sriracha when mixing in ingredients.


Directions:
Pre-heat oven to 325 degrees. In a medium mixing bowl add in bacon, bown sugar, paprika and pepper.
On a parchment lined baking sheet or silpat, uniformly place bacon 1/2 inch apart from each other. Place on middle rack of oven and bake for 20 minutes. Check on your bacon at the 20 minute mark to see if you need to remove any fat from the pan. Continue to bake for an additional 5-10 minutes until desired thickness is reached, the longer the bacon cooks the crispier and thinner it will be.
Remove bacon from oven and allow to cool on cooling rack. Sprinkle with chopped walnuts while fresh from the oven. Bacon will stiffen up a bit after a few minutes. Enjoy warm, room temperature or chilled.