So I made this simple, savory Mushroom and Goat Cheese Puff Pastry Tart at an evet a couple of weeks ago and the guests enjoyed it so much I had to make some for myself! I was at the market and king oyster mushrooms were on sale, but really, any mushroom will do in this recipe. I choose to use white button or crimini mushrooms as the base and then add in some oyster, king oyster, enochi, maitake, shiitake, chantrelle etc. to fit whatever flavor profile you are seeking. It's all finished off with a drizzle of balsamic, butter, thyme, chive and crumbled goat cheese. So GOOD you won't be able to help yourself from having one more bite.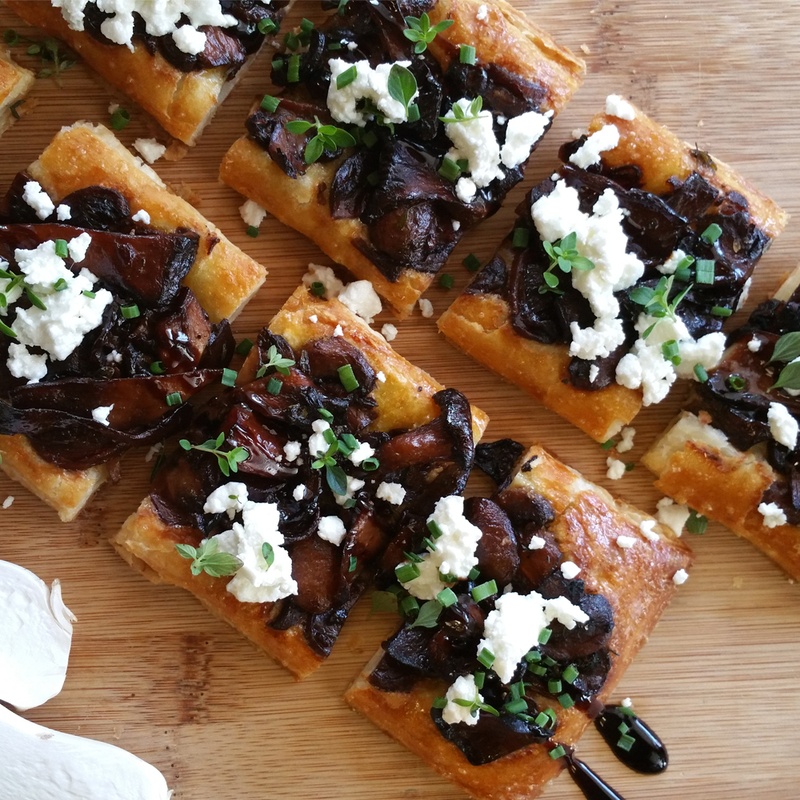 Makes: 24 Bite Size Tarts

Prep Time: 20 Minutes:
Cook Time: 20 Minutes
By: Chef Hallie Norvet
Ingredients:
2 Tablespoons Olive Oil

1 Pound Button Mushrooms
1/2 Pound Any Other Mushroom, I used Oyster but you could use Crimini, Enochi, Maitake, Shiitake, Chantrelle etc.
2 Shallots, Peeled and Chopped
3 Cloves Garlic, Chopped
1 Tbsp Thyme, Chopped
1/4 cup Balsamic Vinegar
1 Tbsp Sugar
3 Tbsp Butter

Salt and Fresh Cracked Pepper
1 Box Puff Pastry, Unwrapped and Cut into the 6 "Folds" it opens up to, or cut into 6 3x8 Strips

1 Egg, Beaten
Garnish:
Goat Cheese, Crumbled

Balsamic Reduction
Chive, Chopped
Thyme, Plucked
Directions:
In a medium sauce pan over medium high heat, heat olive oil and add mushrooms, shallot, garlic and thyme. Saute or stir with a wooden spoon for 5 minutes until mushrooms start to sweat and soften. Add balsamic vinegars, sugar and butter, stir and reduce heat to medium low and allow to cook for 5 additional minutes, stirring every minute or so. Reduce heat to low and allow to cook for another 10 minutes. until mushrooms are fully cooked. Remove from heat and move to next step.

Preheat your oven to 400 degrees. Remove puff pastry from freezer and place onto greased or parchment lined baking sheets. If you have not cut your puff pastry already, most puff pastry rolls will conveniently open up into 3 perfectly sized sheets, each package should provide you with 6 total. Be sure to give about an inch of space in between each tart. Also, it is important to make sure the puff pastry is always frozen, or it will not rise properly. So if your puff pastry for some reason gets soft or comes to room temperature for being left out too long, just pop it back in the freezer to seize back up. With a pastry brush or clean paint brush, brush the egg yolk (or egg wash) mixture over the top of the puff pastry until coated. You just need a thin layer of egg yolk, this is done to give the tart a nice crispy brown edge as seen above. It really makes all the difference.
Once your puff pastry is coated with egg wash, spoon mushrooms down the center of the puff pastry, leaving the edge naked for a crust. Once your mushrooms are placed on the pastry youre ready to bake. Place your baking sheets on the middle rack of the oven and allow to bake for 15-19 minutes until puff pastry has fully risen, and the edges are golden brown. Remove pasty from oven and allow to cool.
Top each tart with balsamic reduction, goat cheese and herbs to your liking! I thin cut each tart into 4 pieces and serve them up on a cutting board or my guests to enjoy. I hope you love them as much as I do!