Happy Cinco de Mayo! One of my favorite snacks to make in the Summertime when the corn is in season, is elotes, or Mexican street corn. These tasty, savory treats are steamed or grilled corn that is smothered in Lime, Mexican crema, Cotija cheese, chile, and garlic. A simple and decadent side dish that is fun to make and fun to eat. Your kids (and significant other) will be begging you for these..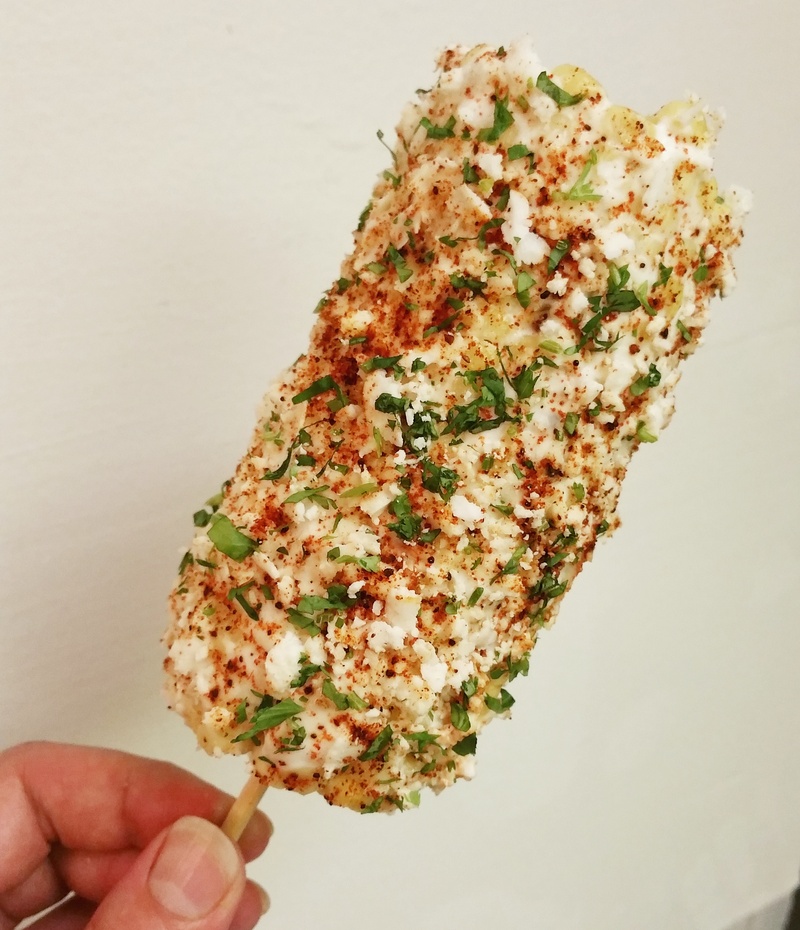 Makes: 4-5 Servings
Prep Time: 15 Minutes

Cook Time: 10 Minutes

By: Chef Hallie Norvet

Ingredients:
10 Fresh Ears of Corn, Shucked, Cleaned and Cracked in Half
Salt
2 Limes, Halved

1 Cup Mexican Crema

3/4 Cup Finely Grated Cotija Cheese

1 Tablespoon Granulated Garlic
1 Tablespoon California Chile Power (or any chile powder)
1 Tablespoon Ancho Chile Powder
3 Tablespoons CIlantro, Chopped Fine

Directions:

Skewer each ear of corn with one wooden skewer as pictured above. Fill and large stock pot half way with hot water, place onto stove top and bring to a boil over high heat. Season water with salt as you would pasta. Drop corn ears into stock pot, cover and allow to steam for 5 minutes until tender and cooked through. Remove corn from pot.
While your corn is cooling down, mix garlic, and chile powders in small dish until mixed evenly.
Using the halved lime, apply lime juice over the outside of the corn. Then with a pastry brush, or bbq mopping brush, apply Mexican crema to the outside of the corn. Sprinkle grated cotija cheese over corn until coated evenly. Sprinkle garlic chile powder mixture over corn until evenly seasoned. Sprinkle lastly with cilantro. Continue until all ears are covered, serve.