Curry Jalapeno Chicken Skewers
I love making skewers. Grilling is one of my favorite ways to cook because it's fast, has relatively little clean-up and imparts a lot of flavor. These skewers are a cinch to make, and I serve them as a filling in lettuce wraps, or over a big bowl of rice.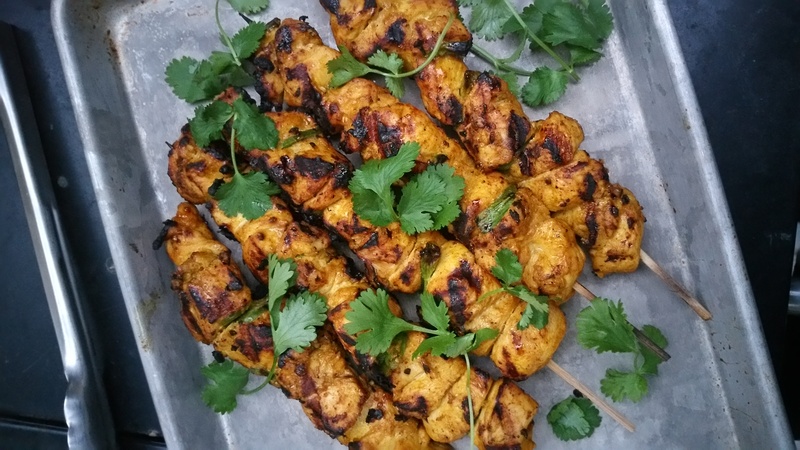 Serves: 3-4
Prep Time: 30 minutes - 2 Hours (Marinate Time)
Cook Time: 10 Minutes
By: Chef Hallie Norvet
Ingredients:
2 Pounds Chicken Breast Tenderloin or Boneless Chicken Thigh, Chopped into 1 inch pieces
1 Tablespoon Curry Spice
1/2 teaspoon Turmeric
1 teaspoon Honey
1 Tablespoon Peeled Ginger, Chopped Fine
1 Tablespoon Garlic, Chopped Fine
1 Tablespoon Sriracha
2 Tablespoon Soy Sauce
1 Tablespoon Sesame Oil
4 Scallions, Trimmed and Cut into 1 Inch Pieces
2 jalapeno, Sliced Thin
Bamboo Skewers
Garnish: 
Cilantro
Finely Chopped Scallion
Directions:
Prep: Place bamboo skewers in a dish with water, cover and allow to soak until ready to skewer your chicken. The water pevents the skewers from burning up on the grill. 
Place chopped chicken into a large mixing bowl. Sprinkle curry and turmeric over chicken. Then add honey, ginger, garlic, sriracha, soy sauce, sesame oil, scalllions and jalapeno in bowl. Mix togetehr ingredients with a spatula until well incorporated. Allow to marinate for 30 minutes-2 hours. 
Once marinated, skewer chicken onto bamboo skewers. Alternate 2 pieces of chicken to one piece of scallion, or jalapeno. Now is a good time to pre-heat your grill, or start any rice if you are having some. 
Place skewers over the hottest part of your grill with a set of tongs. Close the lid and allow to cook for 1-2 minutes. Lift lid and turn skewers over. Allow to cook for another 2 minutes. Lift lid and place skewers onto a part of the grill with indirect heat (not over a flame), close the lid and continue to cook for another 5 minutes until chicken is opaque and cooked to a temperature of 165 degrees. 
Remove skewers from grill when cooked. Allow to rest for 3 minutes prior to serving. Garnish with freshly chopped scallion or cilantro leaves.