This Thanksgiving, try something different than the usual potato gratin.. like this awesome Sage and Butternut Squash Gratin. It's full of Fall flavors like sage, thyme, garlic, butternut squash and a healthy dose of parmesan cheese and brown butter.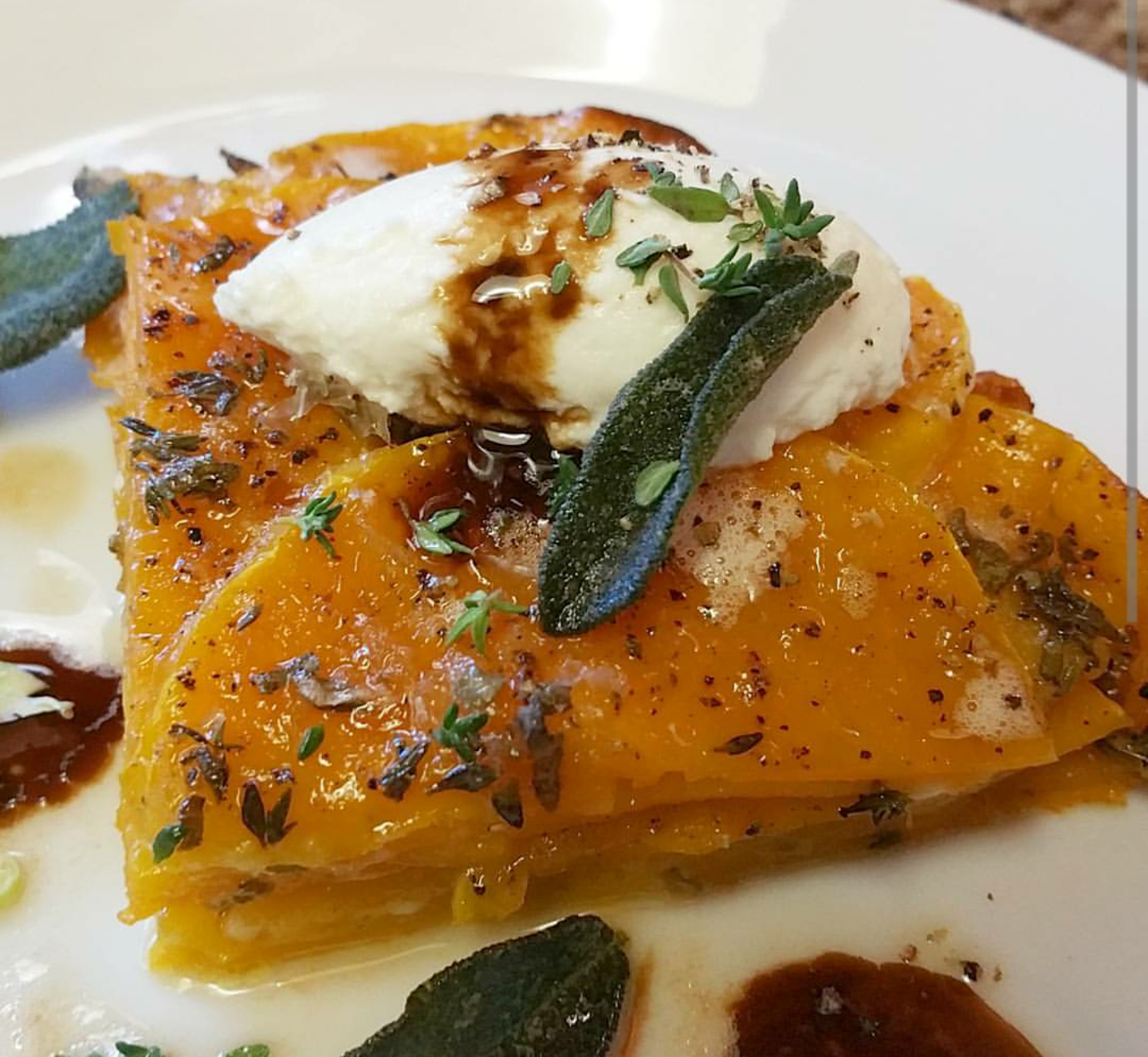 Serves: 5
Prep Time: 15 Minutes
Cook Time: 35 Minutes
By: Chef Hallie Norvet
Ingredients:
1 Tablespoon Olive Oil
1 Large Butternut Squash, Peeled, Cored and Sliced Width-Wise into 18th of an Inch Thick Slices
2 Cloves of Garlic Chopped
1 Tablespoon Fresh Sage, Chopped Fine
.5 Tablespoon Fresh Thyme, Chopped Fine
3 Oz. Fresh Parmesan Cheese, Grated
Salt and Pepper
2 Tablespoons Brown Butter
7 Whole Sage Leaves
DIrections:
Pre-heat oven to 375 degrees.
In a 10x10 oven-safe baking dish drizzle olive oil. Then in a scalloped pattern place down one layer of butternut squash. Top with a pinch of chopped garlic, sage and thyme. Then sprinkle 1/3 of the parmesan cheese over squash. Repeat patteern of squash, herbs, cheese, until squash is gone. 
In a small saucepot, melt butter over medium heat. Addd whole sage leaves to pot and allow to fry in the butter. Once the butter has turned a light ambeer brown, remove from heat. Then with a tongs, remove the now cripsy fried leaves from the butter. 
Drizzle butter over squash and sprinkle with salt and pepper. Cut a parchment paper or aluminum square or circle to fit your dish. It should fit right inside of the dish and cover the squash. 
Roast butternut squash gratin for 35 minutes at 375 degrees. Whe fully coooked a toothpick will go easily into the center, and the edges will be golden brown. Garnish with more parmesan cheese, balsamic vinegar and any type of soft mild cheese such as ricotta or goat cheese.