If you haven't noticed, Braised Beef Short Ribs are my number one go-to confort food meal. I will eat them in any way shape or form. But, this time i decided to put a little twist on them. Instead of using tomato paste and beef stock as I normally would in a french braised beef dish, I switched it up by using some tomato-basil marinara I had made, and some balsamic. It works so well! It's speaks to the Italian side of me for sure. The best part about this dish is the beef and corn pudding can be made ahead and re-heated if needed. They both take a bit of time to cook but it is so worth it.
Balsamic Beef Short Ribs with Corn Pudding and Tomato Salad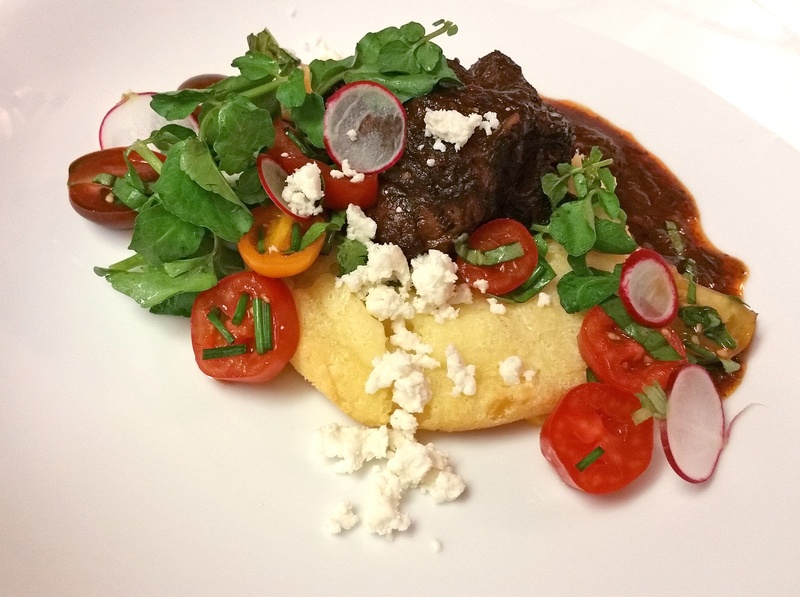 Serves: 4-6
Prep-Time: 30 Minutes
Cook-time: 4 Hours
By: Chef Hallie Norvet
Ingredients:
For the Beef:
2 Pounds Beef Short Ribs, Cut into 4-6 Portions (ask your butcher)
Salt and Pepper to Taste
2 Tablespoon Olive Oil

3 Carrots, Peeled and Cut into Coins
1 Yellow Onion, Peeled and Quartered
1/2 Bunch Celery, Washed and Chopped
3 Cloves Garlic, Chopped
1/2 Tablespoon Dried Thyme

1 Cup Tomato Sauce
1/2 Cup Fresh Basil, Whole Leaves
1/2 Cup Balsamic Vinegar of Modena
2 Cups Beef Stock
2-3 Cups Water (To Cover Beef)

For the Corn Pudding:
1 Box Jiffy Cornbread Mix
1 Can Creamed Corn
1 Can Corn, Drained, or 2 Cobs Fresh Corn off the Cobb

1 8oz Container Sour Cream
1 Cup Whole Milk
1/2 Cup Sugar
Pinch of Granulated Garlic

1/2 Stick Butter
For the Tomato Salad:
2 Cups Baby Heirloom Tomatoes, Halved and De-Seeded, You can use cherry or grape tomatoes as well
1/4 Cup Chopped Fresh Basil
1 Teaspoon Balsamic Vinegar
1 Cup Watercress, Washed and Trimmed of Large Stems

Salt and Pepper to Taste

Directions:
For the Beef:
Heat a large Dutch oven or pot over high heat. Season beef short ribs with salt and pepper. Drop olive oil into hot pan. Coat bottom of pan evenly with oil, then gently place beef short ribs into pot with the meat side down, (bone side up). Sear short ribs for 2 minutes until golden brown on the bottom. Drop carrots, celery, onion, garlic, thyme, tomato sauce, basil and balsamic into the pot. Stir to combine but take note to leave the short ribs meat side down. Add water to pot. Bring mixture to boil. Cover with lid and reduce heat to medium low. Simmer for 3-4 hours until short ribs are fork tender. Do check on the ribs at least once an hour. If the liquid reduces too much, add in additional 1/2 cup of water until beef is cooked.
Remove beef from pot and place on baking sheet. Reduce sauce until it coats the back of a spoon. Season to taste with salt and pepper. When you are ready to serve, heat the ribs in the oven at 350 for 10 minutes until crispy on the outside. You can time this for when the corn pudding is done.
For Corn Pudding:
Pre-heat oven to 350. In a large bowl, mix all ingredients EXCEPT BUTTER together with a whisk. Then, in a large casserole dish (12 x 12 or larger) place the butter. Place the dish with the butter in the oven until melted. Remove dish from oven (it will be hot) then drop corn pudding mixture into the dish. Place dish back in the oven at 350 and bake for 40 minutes until a toothpick comes out clean. It will be done when the sides are golden brown, as well as the top. Remove from oven and cool for 5 minutes before serving.
For Tomato Salad:
Mix all ingredients together in a small mixing bowl. Garnish over completed dish.