'Tis the season for squash! There's more squash at the market than I know what to do with. One of the most simple squashes to prepare is Delicata Squash, why? The squash skin itself is ediblle, so there's no peeling involved. Just wash the squash, halve, de-seed and youre done. Here is how I prepared this dish..
Roasted Delicata Squash with Heirloom Carrots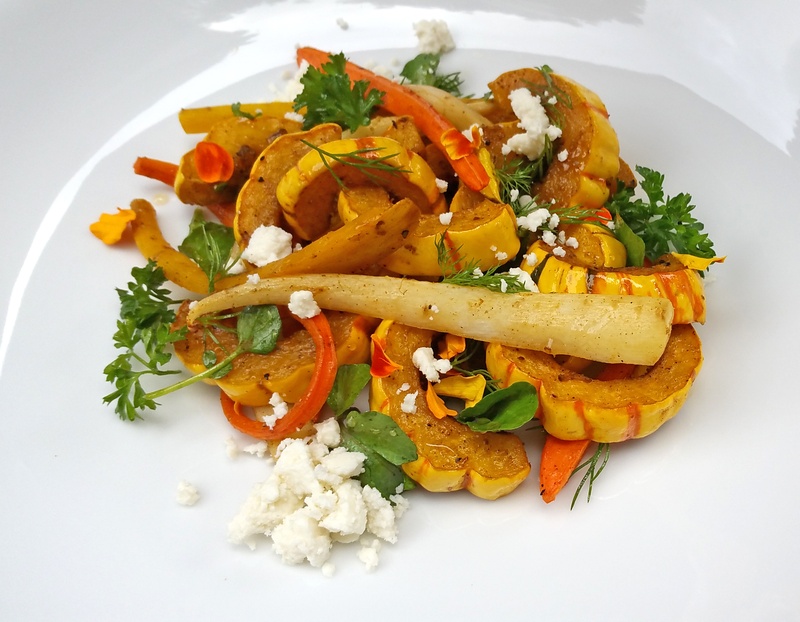 Servings: 4
Prep-Time: 10 Minutes
Cook-Time: 40 Minutes
By: Chef Hallie Norvet
Ingredients:
2 Pounds Delicata Squash, Washed, Halved Lengthwise and De-seeded, Then Sliced in 1/2 Inch Thick Half-Moons

.5 Pound Carrots, Peeled and Cut Into Quarters
1 Shallot, Peeled and Chopped
1 Clove Garlic, Chopped
1 Tablespoon Extra Virgin Olive Oil

1/2 teaspoon Smoked Paprika
1/2 teaspoon Sage, Ground
1/2 teaspoon Cinnamon
Salt and Pepper to Taste
Garnish:
Parsley
Watercress
Dill
Queso Fresco or Mild Feta Crumbles

Honey Citrus Vinaigrette:
2 Tablespoons Honey
1/2 teaspoon Dijon Mustard

1 Lemon, Zested and Juiced
1/2 teaspoon fresh Dill, Chopped

Directions:
Pre-heat oven to 375 degrees. Cover a large baking sheet with parchment paper or aluminum foil.
In a large mixing bowl, place squash, carrot, shallots, garlic, olive oil, smoked paprika, sage, cinnamon, salt and pepper. Toss to coat evenly. Place squash onto baking sheet, lay all items as flat as you can.
Place baking sheet on middle rack and roast for 35-40 minutes until the bottom side is golden brown and the squash is cooked thoroughly.
Remove hot squash from oven and allow to cool for 5 minutes. Place squash back into a clean mixing bowl and toss with fresh herbs. Add as much or as little as you want, fresh herbs are fabulous for bringing a salad alive. Add in the queso fresco or feta crumbles then plate.
Drizzle the citrus vinaigrette oven the squash and enjoy. Also, a drizzle of balsmaic vinegar, or reduction would go fabulous with this dish.