| | |
| --- | --- |
| Posted on January 8, 2015 at 9:35 PM | |
One of my favorite dishes in the world is Roasted Baby Potatoes with Horseradish Sour Cream, but roasting potatoes takes time. This is why here in this recipe I show you how to pan roast them in ten minutes. The best part about this dish is it can be made with only a few ingredients that you probably already have in the fridge!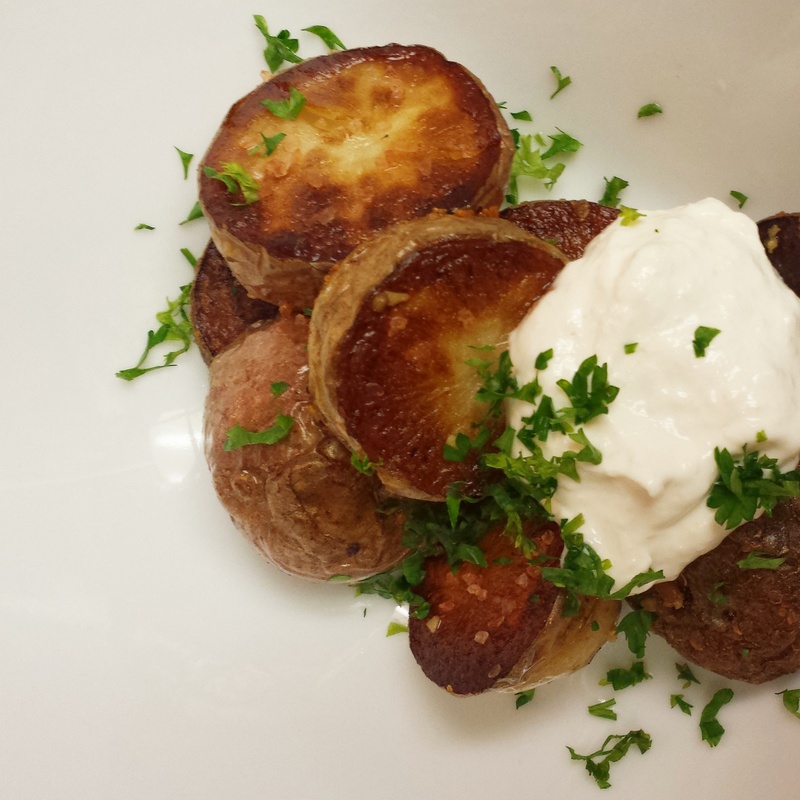 Servings: 2-3

Prep Time: 5 Minutes

Cook Time: 10-15 Minutes

By: Chef Hallie Norvet
Ingredients:
1 Tablespoon Prepared Horseradish
1/2 Cup Sour Cream
3 Tablespoons Olive Oil

10 New or Baby Potatoes, Halved
Sea Salt
1 Teaspoon Chopped Garlic

Chopped Parsley
Directions:
In a small mixing bowl, mix together horseradish and sour cream. Season with salt to taste.
Next, heat a medium skillet over medium high heat. Once your pan is hot, add the olive oil and place potatoes cut side down into the oil. Allow them to fry over medium heat for 3-4 Minutes until golden brown. Flip the potatoes and cook for another 4 minutes on the other side. Place a lid over your potatoes for 2 minutes. If your potatoes are turning golden or brown too quickly, reduce your heat to medium low and cook for an additonal 5 minutes.
Reduce heat to low and add a sprinkle of sea salt and the chopped garlic. Stir with a wooden spoon or spatula to ensure each potato is seasoned. Allow to cook over low heat for 1 minute until you can smell the aroma of garlic.
Move your potatoes to a serving bowl, top with an extra sprinkle of sea salt and a dollop of the sour cream. Sprinkle chopped parsley over the top and you're all finished. Enjoy!