Fully Loaded Bloody Mary Recipe
All Summer long I was in search of a fully loaded Bloody Mary and yeilded pretty mediocre results. So I decided to take things into my own hands and create my own. Behold! My version of a Loaded Bloody Mary! Full of everything I love to eat (and drink) this is a sure hit at any Sunday football party or brunch date. You can even create a bloody mary bar with all of the ingredients layed  out for your guests to choose from. Have fun creating, eating and drinking yours!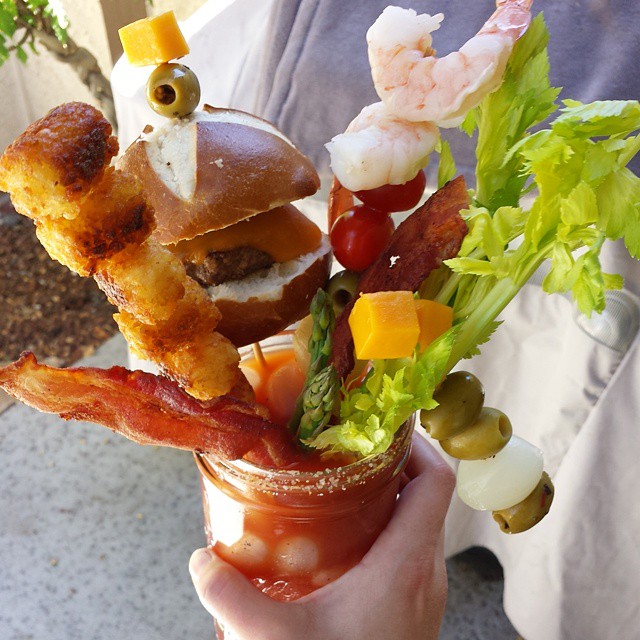 Servings: Makes 10 9oz. Bloody Marys

Prep-Time: 20 Minutues
Cook-Time: 1 Hour

By: Chef Hallie Norvet
Ingredients:
For the Bloody Mary Mix:
60 oz. Tomato Juice (7 1/2 Cups)

1 oz. Freshly Squeezed Lime Juice
1 oz Freshly Squeezed Lemon Juice
3 Tablespoons Worcestershire Sauce
2 teaspoon Freshly Grated Horseradish
4 teaspoons Sea Salt
4 teaspoons Tabasco Sauce
2 teaspoon Celery Salt

2 teaspoon Freshly Grated Black Pepper

For Serving:
Ice Cubes

30 oz. High Quality Vodka (3 and 3/4 Cups)

Garnish Options:
Celery Stalks
Pickles

Blanched Asparagus
Cherry Tomatoes
Cocktail Onions
Green Olives
Cheddar Cheese Cubes
Poached Shrimp

Cooked Bacon Strips

Cooked Tater Tots
Mini Cheeseburgers

Directions:
Place all Bloody Mary Ingredients into a large pitcher, whisk to combine. Cover with lid or saran wrap and allow to chill in the refrigerator for a minimum of 1 hour and a maximum of 24 hours.
For Serving:
When ready to serve, stir Bloody Mary mixture again to distribute even flavors.
Fill 10 16oz. mason jars halfway with ice cubes. Pour 3oz. of Vodka and 6 oz. of Bloody Mary mix into each glass and stir with a cocktail stirrer to combine flavors.
Garnish with your choice of garnish options, basically anything you can put onto a skewer you can put into your loaded bloody mary. Celery Stalks, Olives, Bacon and Shrimp are my favorites. Enjoy!
*Disclaimer: These Bloody Marry's are large and in charge. Please drink responsibly.