| | |
| --- | --- |
| Posted on May 4, 2014 at 2:45 PM | |
I love accompaniments when eating Indian food, one of my favorites is Mango Chutney. I personally favor the fresh version over the store-bought jarred version, and you will not believe how easy and inexpensive this is to make!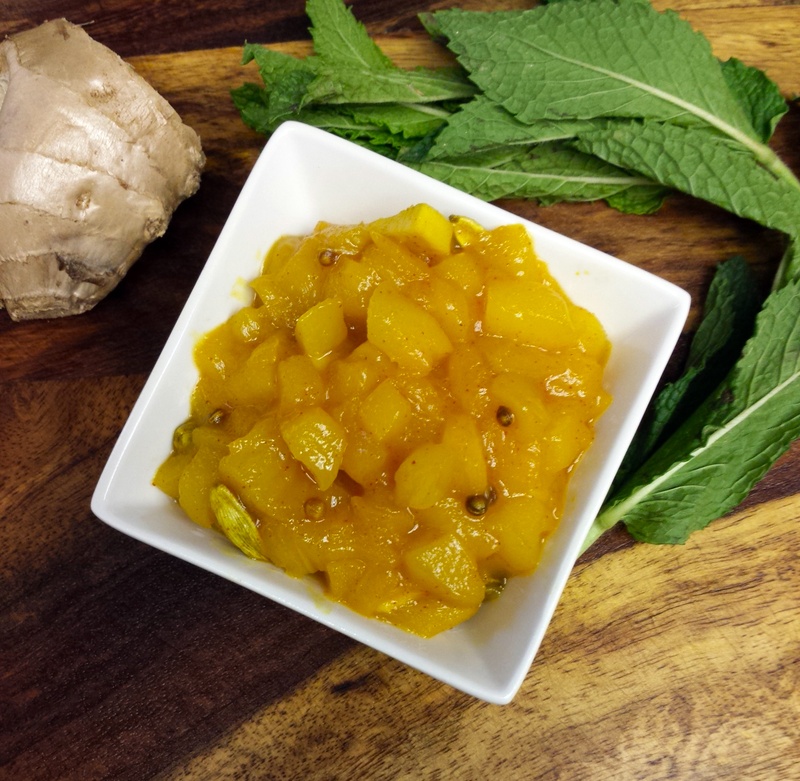 Serves: 4-5
Prep Time: 10 Minutes
Cook Time: 15 Minutes
By: Chef Hallie Norvet
Ingredients:
1/2 Teaspoon Ground Coriander
6 Cardamom Pods
1/2 Tablespoon Vegetable Oil

2 Mangos, Peeled, Deseeded and Diced Small (About 2 1/2 Cups)
1 1-inch Peice Freshly Peeled Ginger, Sliced Thin
1 Garlic Clove, Chopped
1/2 Teaspoon Ground Red or Cayenne Pepper
1/2 Teaspoon Salt

1/2 Cup Light Brown Sugar, Loosely Packed
1/2 Cup White Vinegar
1/2 Cup Golden Raisins (Optional)
Directions:
In a medium sauce pot, heat coriander and cardamom over medium heat until you can smell it's fragrancy. Reduce heat to low and add your vegetable oil. Add you chopped mangoes, ginger, garlic and red pepper. Stir over medium-high heat for 2-3 minutes. Add salt, sugar and vinegar  (and raisins if you wish)and bring to a light boil. Simmer chutney over low heat for 25 minutes until mixture is thick. Be sure to stir contstantly to avoid burning and sticking to the pan. Cool mixture and store in an airtight container for 4-5 days.