These Quinoa and Roasted Vegetable Zucchini Boats baked in a Roasted Red Pepper Sauce are so comforting and delicious you will forget that they are actually good for you! You can omit the breadcrumb and cheese for a vegan/gluten-free meal.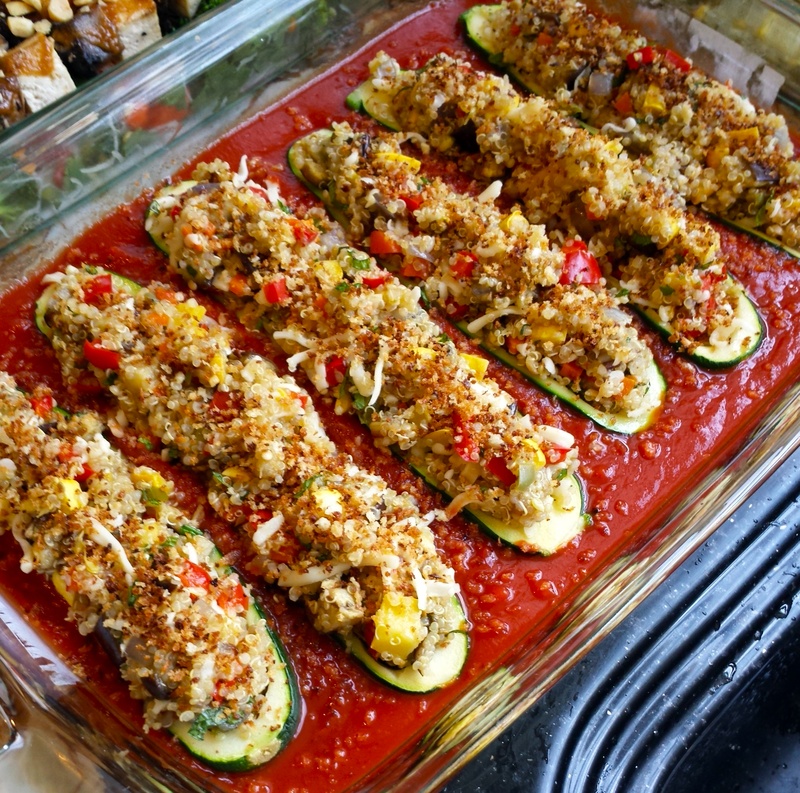 Serves: 3-4
Prep-tiime: 40 minutes
Cook-time: 30 minutes
By: Chef Hallie Norvet
Ingredients:
1 Tablespoon Extra Virgin Olive Oil
4 Whole Roasted Red Peppers, Canned or Fresh
1/2 Onion, Chopped
1 Garlic Clove Chopped
1 Small Can Tomato Sauce
1 Cup Quinoa
2 Cups Chicken Broth/Stock

3 Large Zucchini, Halved
1 Yellow Squash, Chopped

1 Carrot, Peeled and Chopped

1 Red Bell Pepper, Chopped

1 Eggplant, Cut into 1/4 Inch Cubes
1 Small Red Onion, Chopped Fine
3 Cloves Garlic, Chopped
4 oz. Mozzarella, Shredded
1/2 Cup Panko Bread Crumb
1 Tablespoon Butter
1/2 Tablespoon Chopped  Curly Parsley
Directions:
Pre-heat your oven to 375.
In a medium sauce pot heat olive oil over medium heat. Add roasted red peppers,onion and garlic. Saute until onion is translucent and add tomato sauce. Bring sauce to simmer over medium-low heat, and stir occasionally for 40 minutes.

In the meantime, place 1 cup quinoa and 2 cups chicken broth into a medium sauce pot. Heat pot over high heat and bring to a boil. Season lightly with salt and pepper, then cover with lid. Reduce heat to low and simmer quinoa for 20 minutes until all water is absorbed and quinoa is cooked. Next, grab a large baking sheet and drizzle a tablespoon of olive oil over it. Then disperse squash, carrot, bell pepper, eggplant, red onion and garlic evenly over pan and roast in oven for 20 minutes.
Take your 4 halved zucchini, and with a melon baller, gently scoop out the inside of the squash. You want to leave a little bit of a barrier so you do not go through the zucchini.
Once the roasted red pepper sauce has cooked for a 40 minutes, blend together and season with salt and pepper.
Once your quinoa is cooked, fluff with a fork and mix with the roasted vegetables from the oven in a large mixing bowl. Taste the mixture and season with salt and pepper to taste.
In a large glass baking dish, evenly distribute your roasted red pepper sauce. Place each zucchini (scooped side up) into the sauce. Then with a spoon, carefully scooop quinoa and roasted vegetable mixture into zucchini.
** If you would like this recipe to be vegan or gluten-free, this is where you would stop and bake your dish! **
Lastly, top zucchini boats with shredded mozzarella cheese and toasted breadcrumbs. To toast your panko bread crumbs, simply melt butter in a saute pan, and add bread crumbs. Stir bread crumbs constantly over medium high heat until breadcrumbs are golden brown.