I've really been trying to cut back on my carbohydrate intake lately, so I created this lovely Zucchini Noodle Dish with an Arugula Pesto and Roasted Cherry Tomatoes. It definitely satisfied my craving for pesto pasta without me feeling like I've ate an extra 600 calories. This dish is vegan, paleo and gluten-free if you omit the cheese, but I will not give up my cheese..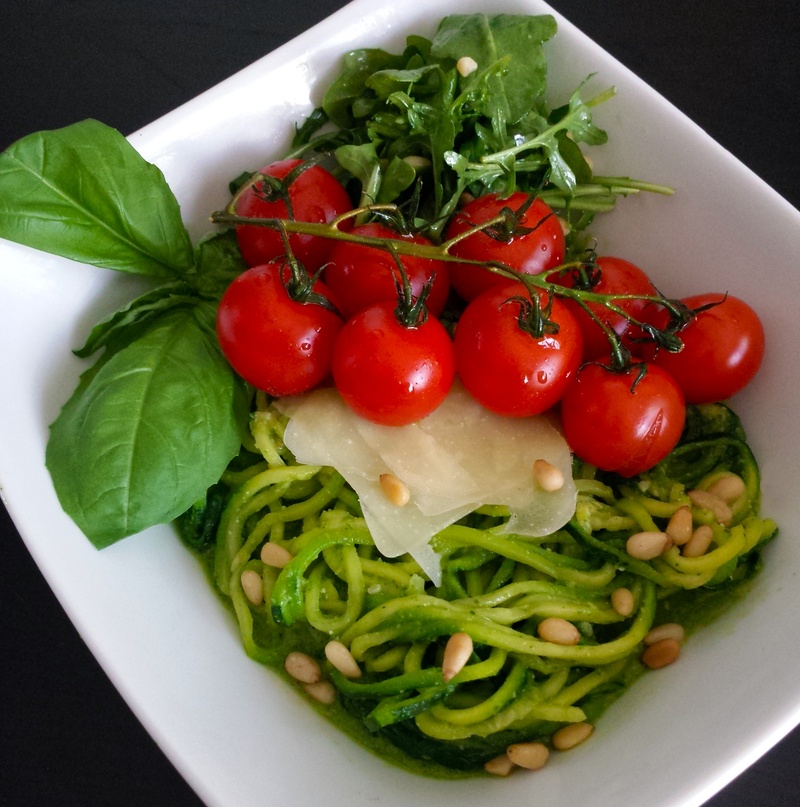 Servings: 2
Prep-Time: 20 Minutes
Cook-Time: 5 Minutes
By: Chef Hallie Norvet
Ingredients:
Pesto:
1 Clove Garlic, Chopped

1 oz. Basil Leaves, Chopped

1 oz. Baby Arugula
1 Tablespoon Freshly Grated Parmesan
2 Tablespoon Pine Nuts
1/4 Lemon, Juiced

1/4 Cup Extra Virgin Olive Oil
Salt and Pepper

Pasta:
12 Cherry Tomatoes (On the vine if possible, if not no biggie)

4 Medium Zucchini
1 Teaspoon Extra Virgin Olive Oil

1 Teaspoon Garlic, Chopped
1 Tablespoon Shallot, Chopped
Salt and Pepper

Garnish:
Shaved Parmesan
Pinenuts
Basil Leaves
Baby Arugula

Directions:
Pesto:
Put all ingredients (garlic, basil, arugula, parmesan and pinenuts) except for olive oil into blender. Start blending ingredients while slowly adding olive oil to mixture. Continue to blend and pour until you have a smooth, bright green mixture. Season with salt and freshly cracked pepper to taste. If you would like your pesto a bit thinner, simply add more olive oil.
Pasta:
Pre-heat oven to 375. Roast your cherry tomatoes on a small sheet pan in the oven for 5 minutes, then remove and allow to cool. With a spiralizer, spiralize your zucchini until you have a decent amount of "pasta." What's a spiralizer? It's like a fancy grater that makes all kinds of fancy cuts that would take you hours with a knife. You can buy one here: http://www.williams-sonoma.com/products/paderno-sprializer/ or at most high end culinary stores. Keep in mind the zucchini noodles will wilt and shrink a bit, so make a bit more than you would be satisfied with.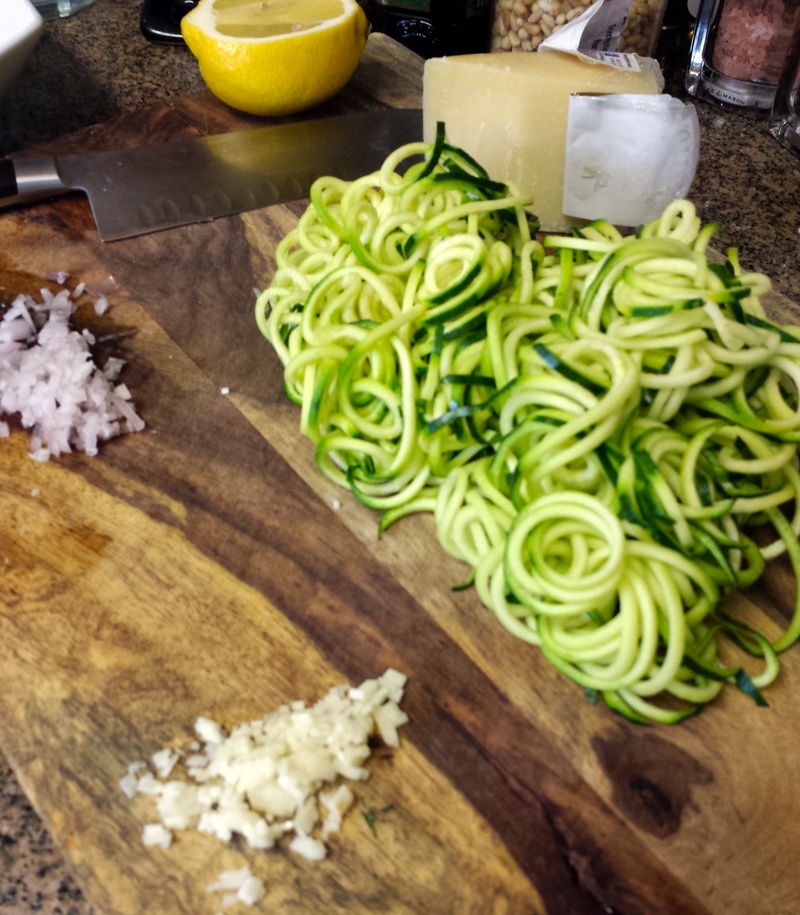 Pre-heat a medium saute pan over medium heat and add olive oil, garlic and shallot. Cook until aromatic, for 1 minute or so. Add zucchini noodles to pan and saute for 2 minutes. Don't allow them to cook for too long, they will continue to cook even when you remoe them from the pan. Season with salt and pepper and remove from heat. Add 1 or 2 tablespoons of your pesto mixture to your noodles and toss with a pair of tongs until coated thoroughly.
Place noodles into a bowl and top with shaved parmesan and cherry tomatoes. Garnish with fresh basil leaves or dressed arugula in olive oil. Enjoy!