Have you ever ordered a $15.00 wedge salad from a restaurant and you end up with a chunk of iceberg with some ranch on it? I have, and oh, how disappointing it can be. My recent wedge salad let down left me craving a real, satisfying wedge salad with toppings galore.. This is when The "Ultimate" Wedge Salad was born. The best part about it? Besides bacon, it can be made in under 20 minutes.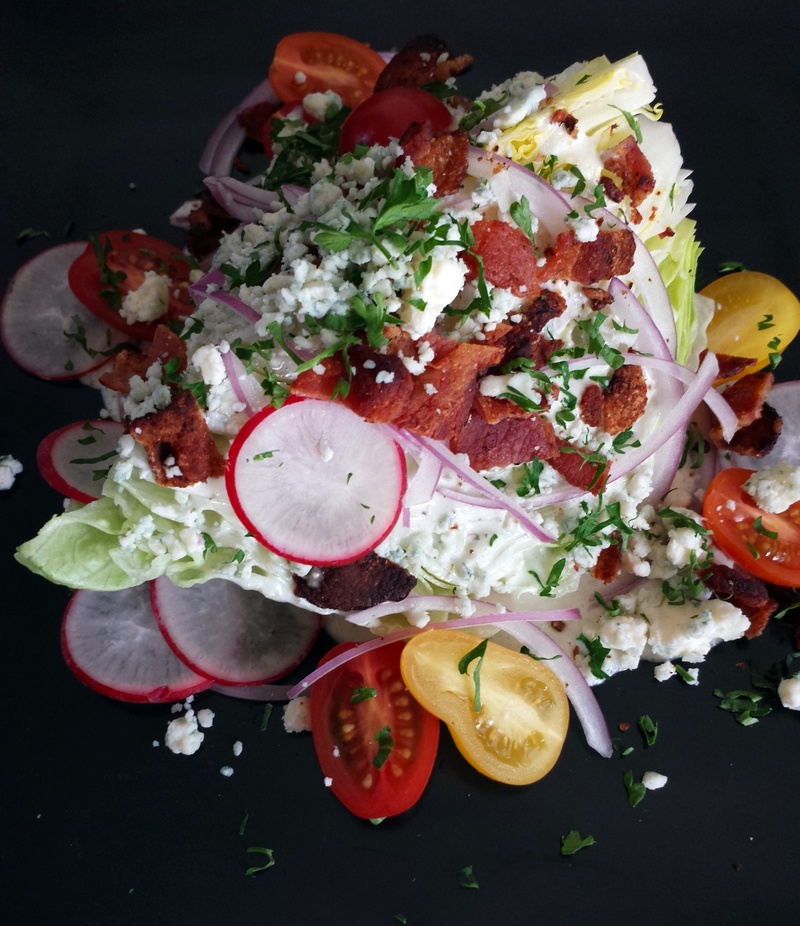 Servings: 4
Prep Time: 15 Minutes
Cook Time: 5 Minutes
By: Chef Hallie Norvet
Ingredients:
Dressing:
1/2 Cup Ranch Dressing (The good stuff in the refrigerated section, no Kraft)

1/2 Cup Good Quality Bleu Cheese
1/2 Shallot, Chopped
1/4 Cup Water
Salt and Pepper

Salad:
1 Iceberg Head, Washed and Quartered
1/2 Red Onion, Sliced
8 Strips of Bacon, Cooked and Chopped

10 Grape Tomatoes, Halved
2 Radish Heads, Sliced

1/2 Cup Bleu Cheese Crumbles
1 Tablespoon Chopped Parsley
Directions:
In a blender, blend ranch dressing, bleu cheese, shallot and water until smooth. Season with salt and freshly cracked black pepper.
On a plate, pour a small drizzle of bleu cheese dressing. Top with wedge, flat side down. Drizzle remaining dressing over wedges. Top with red onion slices, bacon crumbles, grape tomatoes, radish slices, bleu cheese crumbles and chopped parsley to finish. Serve with a knife and fork and enjoy

All photos and recipes by Chef Hallie Norvet, Hallie Norvet Personal Chef Service, Los Angeles, CA