| | |
| --- | --- |
| Posted on December 22, 2013 at 4:50 PM | |
This Caramelized Brussels Sprouts, Shallot, Bacon with Sriracha Mayo dish is a great appetizer or side for your holiday feast. If you're not too kind on Sriracha, a balsamic reduction would be a fantastic substitution. For an extra level of comfort, you must try shaving some parmesan or pecorino cheese over this when it is fresh out of the oven.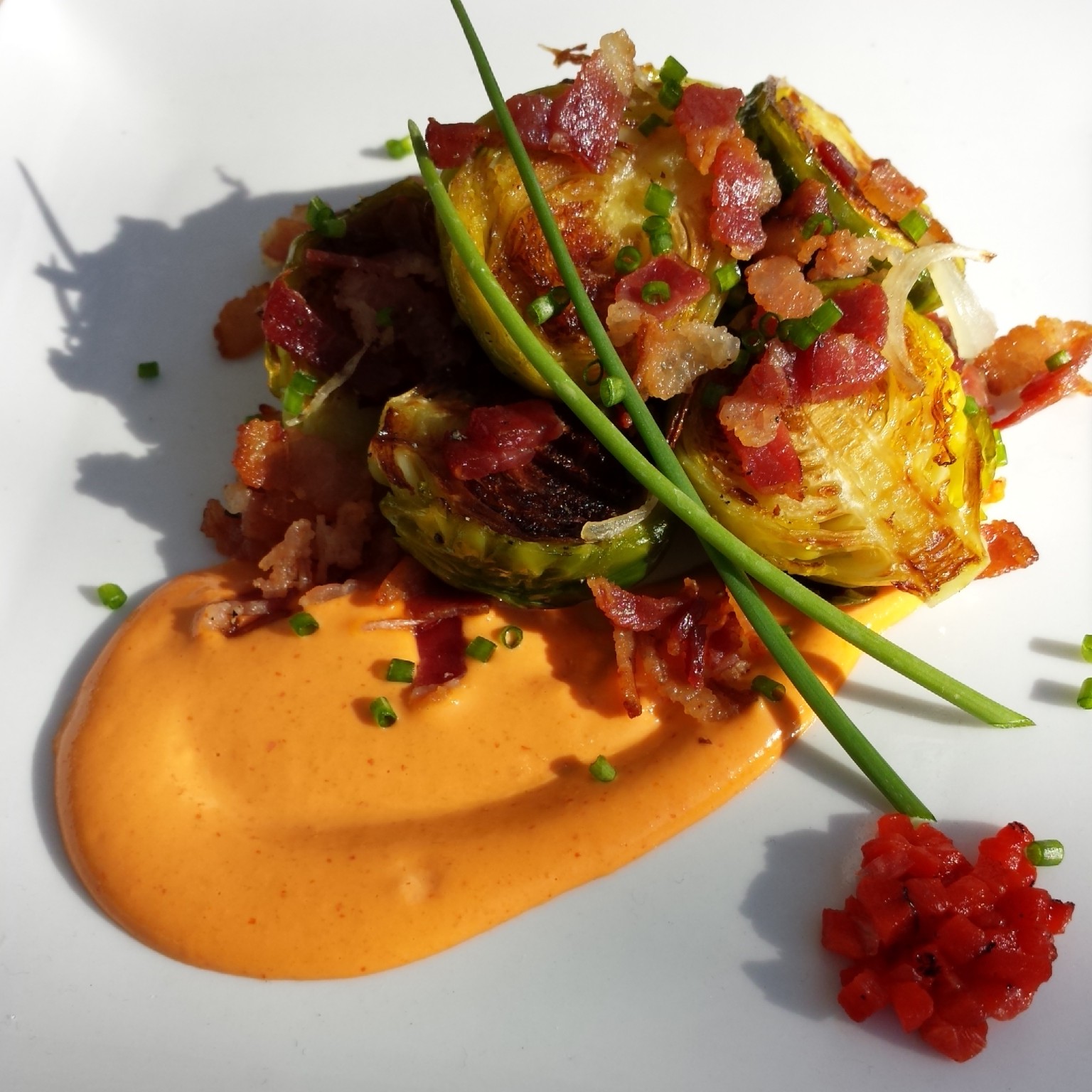 Servings: 4
Prep Time: 20 Minutes
Cook Time: 25 Minutes
By: Chef Hallie Norvet
Ingredients:
1/2 Pound Bacon, Chopped
2 Tablespoons Olive Oil
2 Pounds Brussels Sprout, Trimmed, Cleaned and Halved
1 Large Shallot, Halved and Sliced Thin
Salt and Pepper
1/4 Cup Sriracha Brand Hot Sauce

1/2 Cup Good Quality Mayonaisse
1 Tablespoon Roasted Red Pepper, Chopped
Directions:
Pre-heat oven to 425. Heat a medium skillet over medium heat. Add chopped bacon to skillet and cook for about 5 minutes until halfway cooked. On a large sheet tray, drizzle the olive oil. Place brussels cut side down onto the tray. Drizzle bacon fat from pan evenly over brussels sprouts, then evenly distribute bacon. Take shallots and distribute them evenly over brussels and bacon. Season everything evenly with salt and pepper to taste. *note: do go easy on the salt as the bacon will be salty. Place brussels in the oven on the middle rack and roast for 20-25 minutes, until brussels are tender. Do keep an eye on them around 20 minutes as they will start to caramelize rapidly. Remove tray from oven and use a spatula to flip brussels. Be sure to remove any little burned bit of leaves, or shallot as the high temperature can burn some edges.

In a medium mixing bowl, mix mayonaisse and Sriracha together until incorportated. Place the brussels and bacon into a large serving dish with a small bowl of the Sriracha sauce for dipping or serving. Garnish with chives, chopped roasted red pepper or a hard aged cheese like parmesan or pecorino.