This vibrant Roasted Beet and Herb Goat Cheese Terrine with Fried Shallots can be made hours or days ahead of time. I personally love a broken balsamic vinigrette, or balsamic reduction drizzled over this, but a teaspoon of a really great extra virgin olive oil would be simply fantastic.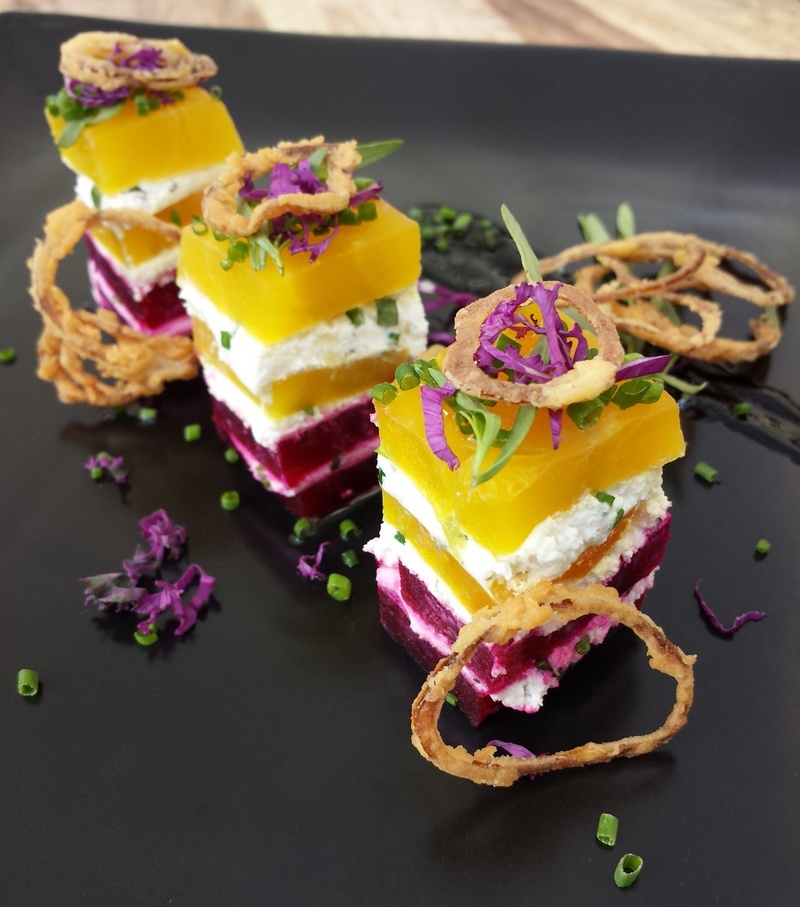 Servings: 4
Prep Time: 1 hour

Cook Time: 1.5 hours
By: Chef Hallie Norvet
Ingredients:
2 Large Red Beets
2 Large Golden Beets
8oz. Crumbled Goat Cheese
1 Tablespoon Chopped Tarragon
1 Tablespoon Chopped Chive
1 Large Shallot, Very Thinly Sliced

2 Tablespoon Whole Milk

3 Tablespoons AP Flour

1/2 Cup Vegetable Oil
Garnish:
Himalayan Pink Salt
Purple Baby Kale

Tarragon Sprigs
Chive

Directions:
Pre-heat your oven to 375 degrees. Line a medium sheet pan with aluminum foil. Take beets and place them on cutting board. Cut each root end and top off of each beet. Wrap each beet in alumium foil and place on foil lined sheet tray (this will save you a lot of clean-up later). Roast beets for 45 minutes.
While the beets are roasting, in a mixing bowl, add goat cheese, tarragon and chive. Mix until incorporated thoroughly. Put goat cheese mixture to side until ready to assemble.
In a small saute pan, add vegetable oil and heat over medium heat until 325 degrees. Mix shallots with milk in a small mixing bowl. In another small mixing bowl, add the flour. Remove shallots from milk mixture and dredge in flour. Once vegetable oil has come to temperature, carefully add shallots to pan. Be sure to flip and cook evenly until golden brown and crunchy. Remove from oil and allow to dry on paper towels.
When your beets are done, you will be able to easily insert a toothpick into them without resistance. Remove foil from beets and allow to cool. Hold beets until cold running water and gently pull off their skins. Discard the skins and dry your peeled beets with a paper towel. *Note, red beets can cause staining of clothes, tile etc. use caution.
Once your beets are cool and dry, slice them into 1/4 inch slices.
To Assemble:
Line an 8x8 glass dish with saran wrap. Start with one layer of red beets. Top with 1/3 of the goat cheese mixture. Just add large crumbles, it does not need to be perfectly spread. Just make sure there is an even amount. Repeat this process again with another layer of red beets, then two layers of golden beets. Red Beet | Goat Cheese | Red Beet | Goat Cheese | Yellow Beet | Goat Cheese | Yellow Beet. Top with final layer of saran wrap, and add a flat heavy weight on top, like a book with a brick on top to "press" the terrine. Place in your refrigerator for 1 hour to 1 day.
Serving:
When ready to serve, remove terrine from dish by placing cutting board on top and flipping over. Remove plastic wrap, and slice. You can have thick or thin slices, small hors d'oeuvre size cubes, cut it however you like. Season with Himalayan pink salt, a small drizzle of extra virgin olive oil and garnish with tarragon sprigs or chive.