This sophisticated salad is a French classic that is sure to impress any dinner guests. If you cannot find frisee in your local super market, purchase a bag of mixed greens that has frisee in it, it will do just as well.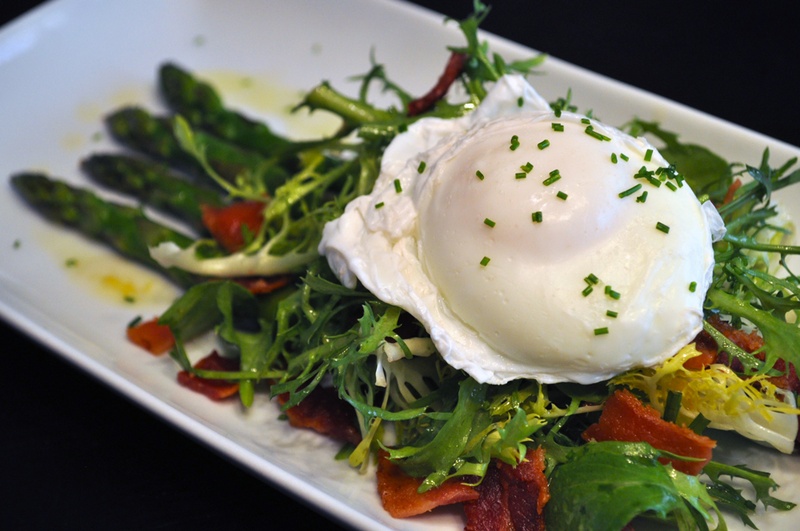 Prep Time: 15 Minutes
Cook Time: 10 Minutes
Servings: 4
By: Chef Hallie Norvet
Ingredients:
1 Pound Asparagus, Washed and Ends Trimmed

3 Tablespoons Extra Virgin Olive Oil
1 Teaspoon Salt
4 Slices of Bacon
1 Lemon, Zested and Juiced
3 Tablespoons Extra Virgin Oil
1 Tablespoon Raw Honey
Pinch of Salt and Pepper
2 Tablespoons Apple Cider Vinegar

4 Large Eggs
4 Cups Torn Frisee or Mixed Greens
Directions:
Pre-heat oven to 425. Fill a medium sauce pot full of water, put over high heat and bring to a rolling boil. Place asparagus on a medium sheet tray and top with olive oil and one teaspoon salt. Bake at 425 for 10-12 minutes until tender. While asparagus is in oven, put 4 slices of bacon into medium skillet over medium heat, cook until golden and crispy. Crumble bacon into large pieces and reserve for plating.

In a small bowl, combine lemon juice, lemon zest, 2 tablespoons extra virgin olive oil, 1 tablespoon honey and a dash of salt and pepper. Whisk ingredients until incorporated, put to side. Add 2 tablespoons cider vinegar to boiling water. The vinegar will help keep your poached egg intact. Bring boiling water down to a low simmer. Gently crack each egg into hot water. Let eggs poach for 2 minutes until whites have become opaque. Gently "flip" eggs with a spoon or spatula. Continue cooking eggs for 3-4 minutes. Once whites are completely opaque, gently remove eggs from water and allow to dry on a paper towel.
If you like your eggs cooked more than over medium, continue cooking until yolks are firm.

Assembly:
In a small mixing bowl, mix frisee or mixed greens with lemon dressing. Grab a clean plate and place asparagus down first. Top with dressed frisee and bacon crumbles. Top mixed greens with poached egg. Garnish with scallion or chive. Enjoy!