| | |
| --- | --- |
| Posted on September 6, 2013 at 5:55 PM | |
Peach and Strawberry Salad with Strawberry Cider Vinaigrette
The strawberries and apple cider vinegar in this salad dressing are packed with powerful antioxidants which can protect your cells and body from being impaired by free radicals like: pollution, stress, chemicals, pesticides, inadequate diet, etc. This nutritious and delicious salad is also great when served as a starter or a side to any grilled meal.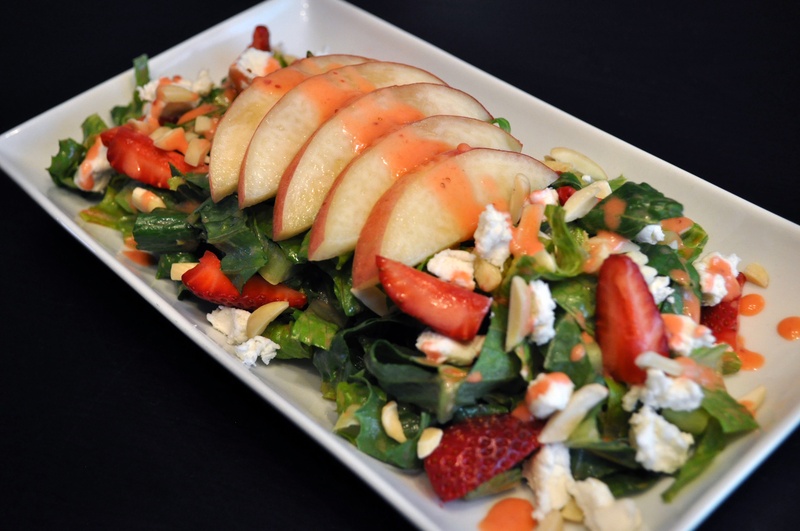 Prep Time: 10 Minutes
Cook Time: None
Servings: 4
By: Chef Hallie Norvet
Ingredients:
For Salad:
1 Head Romaine Lettuce, Washed and Chopped
8-10 Strawberries, Chopped into Quarters
1 Peach, Sliced
1 oz. Goat Cheese, Crumbled
1 Tablespoon Blanched or Sliced Almonds
For Dressing:
4 Strawberries, Chopped
1 Tablespoon Cider Vinegar
2 Tablespoon Extra Virgin Olive Oil
½ Teaspoon Honey
½ Tablespoon Water
Salt and Pepper to Taste
Directions:
Place all dressing ingredients into blender and blend until smooth and incorporated. Dress romaine lettuce with 2/3 of the dressing and place into large serving bowl or individual plates. Add peaches and strawberries into salad, and drizzle remaining dressing over the top. Finish with almonds and goat cheese.