| | |
| --- | --- |
| Posted on August 22, 2013 at 6:45 PM | |
Roasted Red Beet and Poblano Pepper Salad with Cotija Cheese and Lime Vinaigrette
The smoky flavor of the fire roasted Poblano peppers in this recipe pairs spectacularly with the earthiness of the beets. You can roast the peppers and the beets ahead of time; just make sure they stay separated. Serve this dish at room temperature, or chilled with lots of fresh cilantro.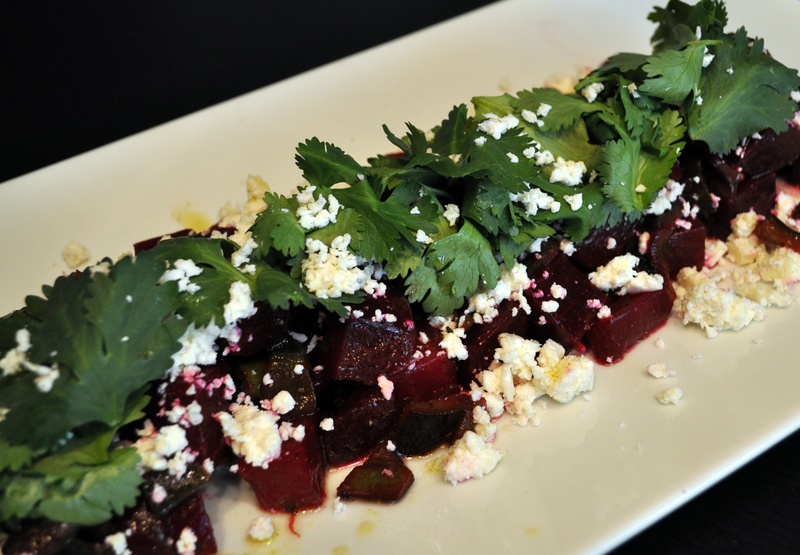 Prep Time: 25 Minutes
Cook Time: 1 Hour
Servings: 4
By: Chef Hallie Norvet
Ingredients:
Salad:
3 Large Red Beets
1 Large Poblano Pepper
½ Cup Crumbled Cotija Cheese
¼ Cup Fresh Chopped Cilantro Leaves
Dressing:
1 Lime, Juiced
¼ Tablespoon Honey
Kosher Salt and Pepper to Taste
Directions:
Preheat oven to 375. Cut roots and ends off of beets. Beet juice can dye clothing and surfaces very easily so use caution. Wrap each beet in aluminum foil and place on baking sheet in oven. Roast beets for one hour and check for doneness. Stick a toothpick or fork into beet, if there is no resistance, your beet is cooked. Allow beets to cool.
Take whole Poblano pepper and roast over open flame or place under broiler in oven until skin is black and blistered. Always use caution when working with an open flame. Put roasted pepper into a plastic bag or a bowl with a lid to "sweat" until soft. Once pepper is soft, remove charred skin by wearing a glove. Remove stem and seeds from pepper with a knife, chop pepper into small chunks and hold in your refrigerator.
Once your beets have cooled, remove their skins by hand by wearing a glove. Once peeled, cut beets into uniform 1 inch cubes. Hold beets in refrigerator until ready for use.
To make your dressing, simply whisk lime juice, honey and salt and pepper together. Remove beets and peppers from fridge and toss with dressing. Toss in ½ of the cilantro leaves and serve in a plate or bowl. Top with crumbled cotija cheese and remaining cilantro leaves.