| | |
| --- | --- |
| Posted on August 22, 2013 at 6:35 PM | |
Grilled Shrimp Tostadas with Avocado Poblano Pepper Puree, Queso Fresca, Shallot Greens and Cilantro
Shallot greens are a lot like a green onion or scallion, except they are much bigger in size and flavor!  Be sure to slice them thin because they are very strong in taste.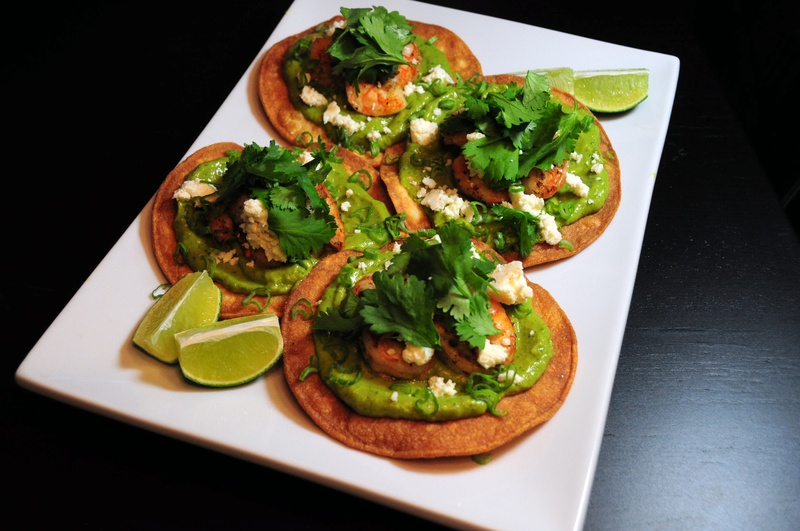 Prep Time: 35 Minutes
Cook Time: 10 Minutes
Servings: 2
By: Chef Hallie Norvet
Ingredients:
1 Poblano Pepper
1 Avocado, Chopped
¼ Cup Water
1 Lime, Juiced
Kosher salt and pepper
16 Large Shrimp, Peeled and Deveined
4 Corn Tostadas
¼ Cup Crumbled Queso Fresca
¼ Cup Finely Chopped Shallot Greens
¼ Cup Cilantro Leaves
Directions:
Skewer shrimp and and store in refrigerator for later use.  Start grill. Heat whole Poblano pepper over open flame or under broiler until black and charred. Always use caution when working with an open flame. Put roasted pepper into a plastic bag or a bowl with a lid to "sweat" until soft. Once pepper is soft, remove charred skin by wearing a glove. Remove stem and seeds from pepper with a knife, chop pepper into chunks and place into blender. Add avocado, water and lime juice to blender. Blend until smooth. Add salt and pepper to taste. Hold puree in refrigerator until you are ready to assemble your tostada.
Season shrimp skewers with salt and pepper. Grill skewers over open flame, or on cast-iron pan, until shrimp are opaque and pink. Now that your shrimp are cooked, it is time to assemble your tostadas. Add a spoonful of avocado pepper puree over each tostada and spread throughout. Top each tostada with four shrimp, crumbled queso fresca, chopped shallot greens and fresh cilantro. Eat by hand or with a knife a fork!