| | |
| --- | --- |
| Posted on August 22, 2013 at 3:55 PM | |
Cumin Spiced Kabocha Squash Bisque with Toasted Pepitas and Cilantro Oil
This creamy spiced bisque is a great recipe for autumn when the Kabocha squash is in its peak growing season! To save time and clean-up, invest in a small hand immersion blender. This allows you to blend soups, sauces, dressings etc. in almost any vessel.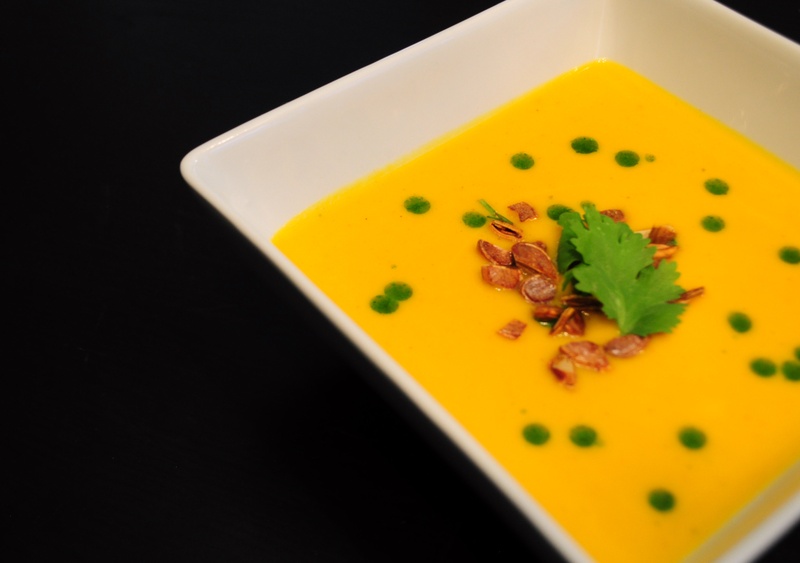 Prep Time: 25 minutes
Cook Time: 1 Hour
Servings: 5
By: Chef Hallie Norvet
Ingredients:
For Soup:
1 Kabocha Squash
½ Tablespoon Cumin
Olive Oil
½ Cup Whipping Cream
½ Tablespoon Honey
1.5 Cups Water
Kosher Salt
For Pepitas:
½ Cup Rinsed and Dried Seeds from Kabocha Squash
1 Tablespoon Olive Oil
Pinch of Kosher Salt
For Cilantro Oil:
¼ Bunch Cilantro
½ Teaspoon Honey
½ Cup Olive Oil
Pinch of Kosher Salt
Directions:
Pre-heat oven to 375. Bring a small pot of water to a boil. Using a pair of tongs, drop cilantro into pot for 5 seconds, remove from water and put into blender with oil, honey and salt. Blend until oil is bright green. Remove from blender and reserve for later use.
With caution, remove stem from squash with a knife. Then with a peeler, remove the skin from the squash. Cut Squash into quarters, remove seeds and reserve for later use. Dust squash with salt and cumin until coated. Individually wrap squash quarters with aluminum foil, place on oven safe baking sheet and roast for 1 hour.
Meanwhile, clean and dry seeds removed from the squash. Coat seeds in olive oil and a dash of salt. Bake seeds in oven for 10 minutes, until they are toasted brown and crispy. I prefer to chop seeds of this size as well. These seeds will be used as a garnish and add texture to your soup once it is finished.
Once your squash is tender enough to slide a fork into, it is done. Remove from oven and place into blender. Add cream, honey, water and a dash of salt. Blend until smooth. If soup's texture is too thick, add an equal amount of cream and water until desired consistency. Season with salt to taste.
Serve soup in bowl with a drizzle of cilantro oil and toasted Pepitas.