| | |
| --- | --- |
| Posted on December 14, 2012 at 6:10 PM | |
These mini shrimp tostadas are topped with sliced radish, pico de gallo, Mexican crema and tangy chili lime shrimp. This is one bite that is full of fresh Mexican flavor! These are great sophisticated appetizer for a multitude of occasions. All of the components can be made ahead of time, so assembly is super easy. Be forewarned: It is easy to make and eat a lot of these.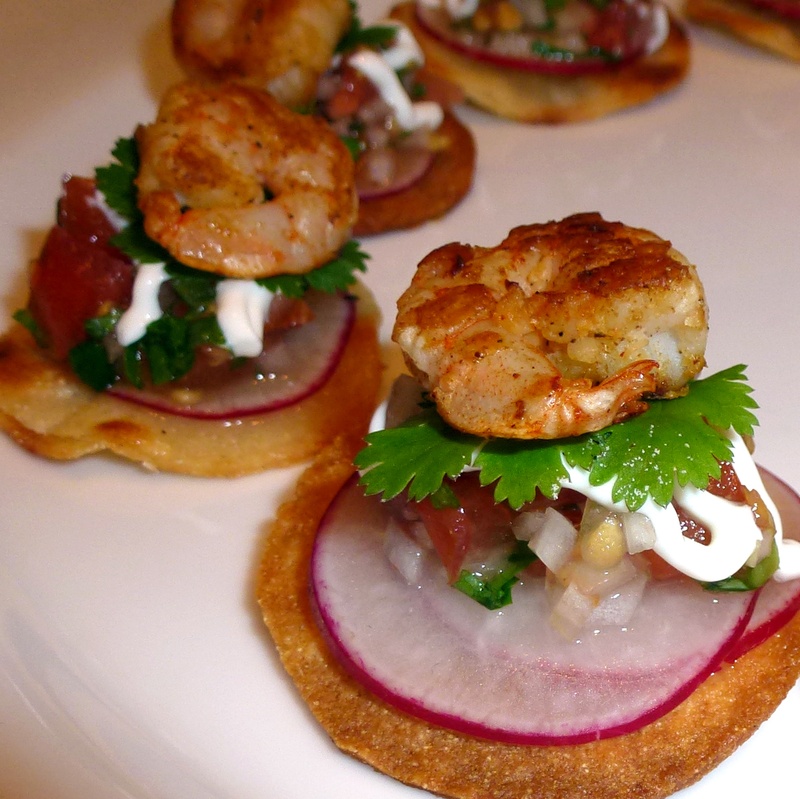 Chili Lime Shrimp Tostadas
Makes 30-40 - Serves 10

Ingredients:
12 Small Corn Tortillas
1/2 LB Uncooked Small Shelled and Deveined Shrimp (51/60 or 41/50)
1/2 TB Mexican Chili Powder
1/2 TB Cumin
1 Lime Zested

1 Lime Juiced
2 Medium Tomatoes Chopped
1/4 Red or White Onion Finely Chopped
1 TB Cilantro Chopped
1/2 Small Jalapeno De-stemmed and Seeded; Finely Chopped
5-6 Red Radish Bulbs, Sliced as Thin as Possible.

30-35 Cilantro Leaves for Garnish
1/2 Cup Mexican Crema (Sour Cream)
4 TB Olive Oil

Salt + Pepper
Note: Be sure to wash all vegetables and herbs thoroughly before using.
Marinate your shrimp in cumin, chili powder, lime zest and 1 TB Olive Oil. Be sure all shrimp are coated evenly. Store shrimp in a ziploc bag, or bowl in the refrigerator until it is cooking time.
This recipe shows you how to make your own tostadas, however you could just as easily use round tortilla chips as a mini tostada. Here is how to make your own tostadas: Pre-heat oven to 375 and place your oven rack in the lowest position. Take 2 TB Olive oil and brush it onto a baking sheet. In stacks of three, take tortillas and use a 2 inch round cookie cutter to make little rounds. If you to not have a cutter, just use a paring knife. Once you have 30-40 small tortillas, place them onto the cookie sheet. Bake on the lowest rack for 12-15 minutes until golden brown and crispy. Remove from oven, sprinkle with salt and let cool.
How to make the pico de gallo: Take tomato, onion, jalapeno and cilantro and combine in a bowl. Season with salt and pepper. Put to the side.
Add mexican crema to small ziploc bag. Make sure concentration of sour cream is in one corner. Snip a small corner off the bag. You now have a piping bag!

Assembly:
Heat large saute pan over high heat. Add 1 TB olive oil to pan. Once your pan is almost at smoke point, add shrimp. Cook on medium heat until shrimp and cooked thoroughly and opaque. Add lime juice, cook for 1 minute and remove from heat. Season with salt and pepper.
Take your cooled sheet of tostadas and add two slices of shaved radish to each one.
Then, top each tostada with 1 tsp pico de gallo.
Add small dollop or drizzle of crema over tostada.
Add one or two cilantro leaves.
Finish with one shrimp on each tostada.
This appetizer is fresh, colorful and sophisticated enough for any crowd!