Jerk Grilled Chicken Thighs with Melon Salsa

My Father has been grilling Jamaican Jerk Chicken for me ever since I can remember. I will say this time, and time again, that Jerk Chicken is responsible for me becoming a chef. My obsession with the unique flavors still lives to this day. While this recipe is not a full Jamaican Jerk recipe, it satisys most of the flavor combinations. The best part of course, is this is a quick dish to make, and would be a complete dinner with just one or two sides.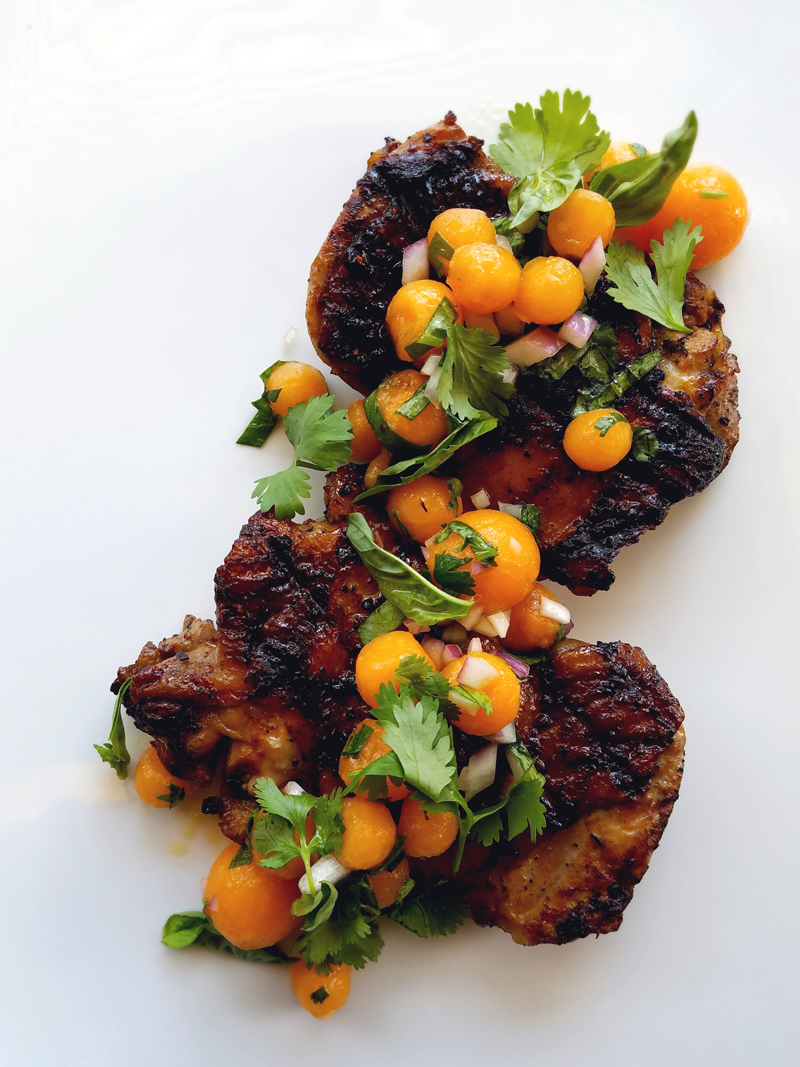 Serves: 4-5

Prep Time: 15 Minutes

Cook Time: 15 Minutes

By: Chef Hallie Norvet
Ingredients:

For the Chicken
1/3 Cup Reduced Sodium Soy Sauce
2 Limes, Juiced

1 Tablespoon Chopped Garlic
1 Tablespoon Fresh Ground Black Pepper
1 teaspoon ground Jamaican Allspice
1 teaspoon ground Cinnamon
2 teaspoon Fresh Thyme
1/2 teaspoon Cayenne Pepper or 1 Freshly Chopped Habanero/Scotch Bonnet Pepper, No Seeds
2 Tablespoons Balsamic Vinegar
2 Pounds Boneless Chicken Thighs
For the Salsa
1/2 Melon, De-seeded and balled into various sizes
1/4 Cup Chopped Red Onion
2 Tablespoons Fresh Basil, Chopped
1 Tablespoon Fresh Cilantro, Chopped
1 Lime, Juiced
1 Tablespoon Extra Virgin Olive Oil

Salt
Directions:

Preheat your grill or grill pan.

For the Jerk chicken marinade, mix all ingredients except chicken into a bowl and whisk. Place chicken into a medium sized bowl or Pyrex dish and pour mariande over chicken. Allow to marinate for 10-15 minutes.
While the chicken is marinating, prepare the melon salsa. Place all salsa ingredients into a separate bowl and mix together with a spoon. Put aside in refrigerator to chill.

Place chicken onto the grill and flip 2-4 times every 5 minutes until fully cooked to 165 degrees. Remove chicken from grill, allow to rest on plate or cutting board for for 3 minutes. Slice chicken or serve whole, and top with salsa.