Roasted Kimchi and Vegetable Soup
Colder weather calls for something warm, hearty.. and spicy! That's when I got the idea to make this colorful and satisfying Roasted Kimchi and Vegetable Soup. If you didn't know, kimchi is made by fermenting napa or savoy cabbage with lots of salt, vinegar and chiles. It is used a side dish or accompaniment in many Korean dishes. After frequenting many Korean restaurants in Korea town last year I picked up that kimchi is not only delicious when eaten in it's raw natural form, but grilled or roasted. The flavor in this soup is remininscent of that, and other Korean flavors. I like to top mine off with a few extra pickled veggies, an 8-minute egg and a cold beer.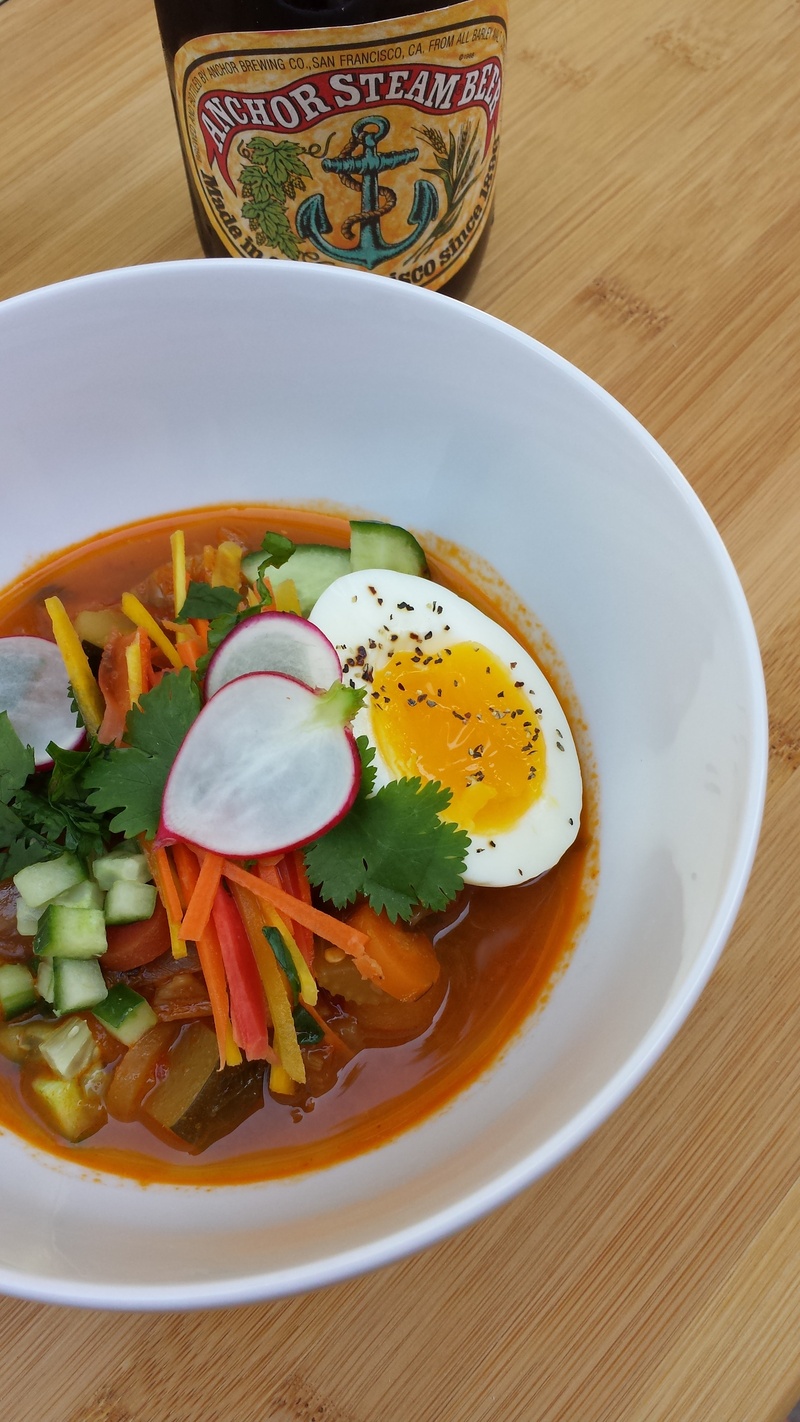 Serves: 4-5
Prep Time: 20 Minutes
Cook Time: 2.5 Hours
By: Chef Hallie Norvet
*Tip: You can use your own kimchi for this recipe, or use a high-quality jarred version from your local Korean market.

Ingredients:
2 Cups Tightly Packed Kimchi, Drained, Juice Reserved for Later Use

2 Tablespoons Sesame Oil

1 Medium Brown Onion, Chopped
2 Tablespoons Fresh Ginger Chopped
5 Cloves Garlic, Chopped
2 Stalks Celery, Chopped

1 Carrot, Peeled and Chopped Into Coins
1 Small Zucchini, Quartered and Chopped

1 Tablespoon Sugar, Brown or White Granulated
1 teaspoon Fish Sauce

1 Tablespoon Doengjang, Korean Bean Paste, if you cannot find this it's no problem but it adds to the depth of the soup
1 Tablespoon Gochujang, Korean Red Chile Paste, If you cannot find this 1/2 Tablespoon Sambal Olek Garlic Chile will work
3 Tablespoons Low Sodium Soy Sauce
1 Quart Vegetable Broth

1 Tablespoon Butter

Garnish:
Fresh Scallions
Fresh or Lightly Pickled Vegetables Such As: Julienne Carrot, Daikon Radish, Cucumber quick pickled with an equal part dissolved sugar, salt, rice wine vinegar. Add cilantro, chile sauce (sambal olek) to make spicier
Radish
Cilantro
8-Minute Egg: Boil a pot of water. Gently drop a whole shelled egg into the water. Remove after 7 to 8 minutes and shock in ice cold water bath. Remove egg when chilled, and gently peel. Bring to room temperature, halve and serve with soup.
Directions:

Preheat your oven to 375 degrees. Gently spray large baking sheet with non-stick cooking spray. Evenly distribute drained kimchi onto tray. Place tray of kimchi onto upper 1/3 rack of oven. Roast for 15-20 minutes until "cooked." Remove from oven and allow to cool.
Heat a large stock pot over medium-high heat for 30 seconds. Add sesame oil to pot and add chopped onions, garlic and ginger. Move heat to medium and cook onions until soft and translucent. Add in roasted Kimchi to pot and stir to combine. Add second batch of ingredients to pot: celery, carrot, zucchini, sugar, fish sauce, Doengjang and Gochujang. Stir until all ingredients are combined and cooking in pot. Add soy sauce and stir until all ingredients are coated. Add vegetable stock and kimchi juice to pot and stir until incorporated. Bring soup to boil, then reduce heat to a low simmer. Simmer covered for 1.5 hours.
Remove lid and simmer for 15 minutes on medium boil. Taste soup, and season if needed. Add in butter to finish soup. If it needs more salt add a teaspoon of soy sauce. If it needs less salt, add a 1/2 cup water or vegetable broth. I like to finish mine with a lot of fresh cracked black pepper. This dish is wonderful when served along side a big bowl of white rice. Sometimes you need that plain component to really make the flavors sing.
Top with garnishes of your choosing and an egg or two. So satisfying! Enjoy!
By Chef Hallie Norvet | Los Angeles