Pork and Vegetable Sichuan Style Wontons with Chili Sauce

Los Angeles had an early rainy season this year, and my mind only goes to one thing.. I needed to make some dumplings. One of my favorite versions are these Pork and Vegetable filled Wontons with a Sichuan-Style sweet and spicy sauce. Normally wontons are used for frying as they are a bit thicker than gyoza wrappers which are typically intended for steaming. So when I prepare these I like to do a quick pan fry and then steam them until the filling is fully cooked. They're so tender, comforting and delicious.. you wont be able to stop.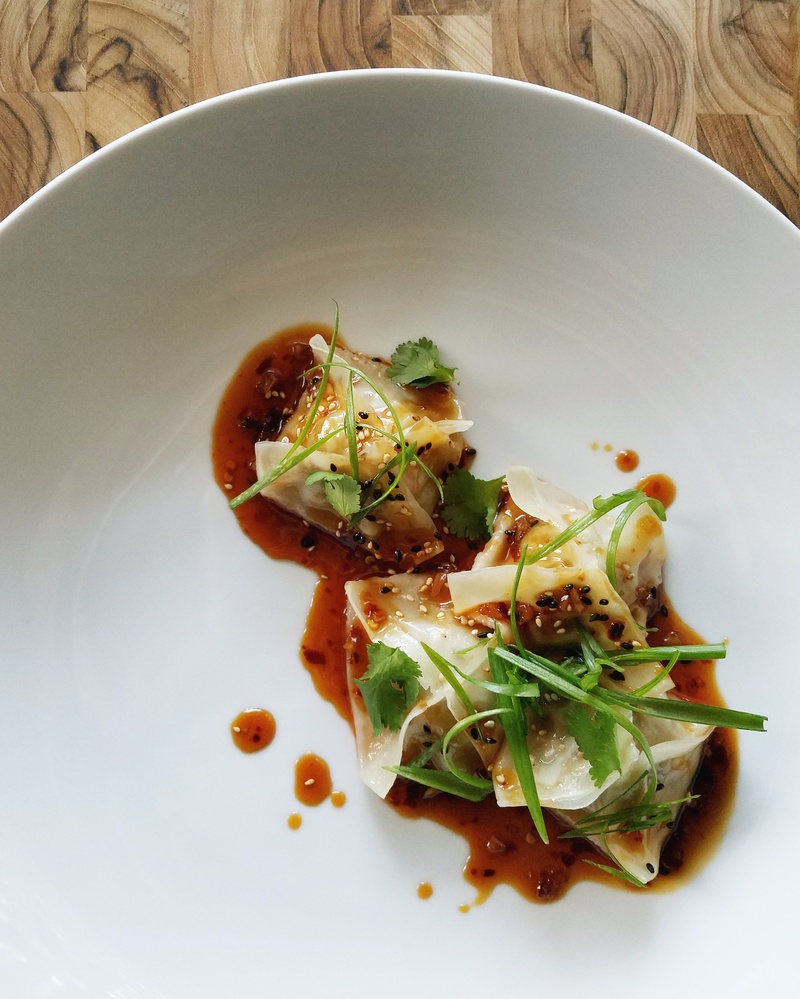 Makes: 30+ Wontons
Prep Time: 20 Minutes
Cook Time: 30 Minutes
By: Chef Hallie Norvet
Ingredients:
For the Filling:
1 Tablespoon Sesame Oil
1/2 Head Savoy Cabbage, Finely Chopped
1/2 White Onion, Peeled, Finely Chopped
6 Cloves Garlic, Finely Chopped
1 Tablespoon Ginger, Chopped
5 Button Mushrooms, Chopped
5 Scallion, Chopped
1 Tablespoon Cilantro, Chopped
1 Teaspoon Brown Sugar
1 Teaspoon Sriracha
2 Tablespoon Soy Sauce
30 Wonton Wrappers
1/2 Pound Ground Pork
1/4 Teaspoon Corn Starch
1 Tablespoon Sesame Oil
Garnish:
Scallion
Sesame Seed
For the Sauce:
1 Tablespoon Sesame Oil
3 Tablespoons Chili Oil, Including Chiles
5 Cloves Garlic, Finely Chopped
1/4 Cup Sugar
1/4 Cup Rice Wine Vinegar
1/4 Cup Reduced Sodium Soy Sauce
1/4 Teaspoon Corn Starch, Dissolved in 1/2 Teaspoon Water
1/2 Water or Vegetable Stock
Instructions:
For the Dumplings:
Heat sesame oil in a medium sauce pot over high heat. Add cabbage, onion, garlic, ginger, mushrooms, scallion and cilantro and sauté over medium heat until onions are translucent and vegetables are thoroughly cooked. Add in brown sugar, sriracha, soy sauce and cook for an additional 5 minutes. Remove from heat and allow vegetables to cool. Add cooled vegetable mixture to ground pork, and mix in corn starch until incorporated. Now it's time to fill your wontons.
Place wonton wrappers flat down on a clean surface. Fill wrapper with 1/2 tablespoon of pork and vegetable mixture. With some warm water, "paint" the edges of the wonton wrapper with your finger. Bring opposite ends of the wonton together and seal, while bringing up the other opposite two edges to make a pyramid. Press the edges together to seal.
Add 1 tablespoon sesame oil to large saucepan and heat over high heat. Once pan is hot, reduce heat to medium and carefully place wontons into pan. Allow to cook for 1 minute, and then add water or broth. Cover with lid and allow to steam on low heat for 5-8 minutes until dumplings reach internal temperature of 160 degrees. Keep covered until ready to serve.
For the Sauce:
Add all ingredients into small sauce pan and bring to a simmer over medium heat. Once sauce thickens and sugar has dissolved, remove from heat. Serve sauce over warm dumplings and garnish with sesame seeds and scallion strings.