| | |
| --- | --- |
| Posted on November 23, 2014 at 7:25 PM | comments (0) |
Garam Masala and Chile Crusted Lamb Chops
with Mint Chimichurri
These lamb chops are seasoned with Indian spices that go so well with each other. It's no wonder these Garam Masala and Chile Crusted Lamb Chops with Mint Chimichurri will have your guests asking for more.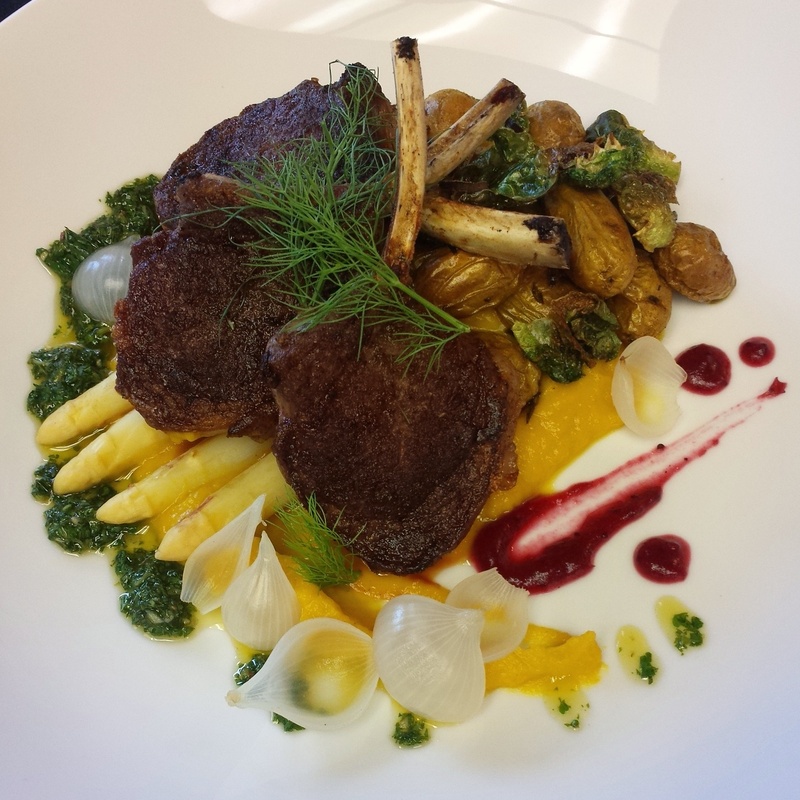 Lamb Chops with Mint Chimichurri Seen Above with Curried Pumpkin Puree, Cranberry Sauce,
White Asparagus, Pee-wee Potatoes and Fried Brussels Sprout Leaves
Servings: 2
Prep Time: 10 Minutes
Cook Time: 10-15 Minutes
By: Chef Hallie Norvet
Ingredients:
Chimichurri:

1/2 Cup Finely Chopped Mint
1/4 Cup Finely Chopped Curly Parsley
1/2 tsp Chile Flake

2 Garlic Cloves, Finely Chopped
2 Tablespoons Red Wine Vinegar
6 Tablespoons Olive Oil
Lamb:
6 Lamb Chops, Trimmed and Frenched
Salt and Pepper

1 tsp Garam Masala
1/4 tsp Ground Red Pepper
2 Tablespoons Olive Oil
Directions:
Chimichurri:
Mix all ingredients together in a medium sized bowl. Allow to marinate for at least 1 hour.
Lamb:
Pre-heat oven to 375. Pat dry chops with a paper towel. Season with salt and pepper on both sides. Next, evenly distribute garam masla and red pepper onto each side of the lamb chop. When all lamb chops are seasoned, you can pre-heat a large skillet over medium high heat. Once the pan is hot, add 2 Tablespoons olive oil. Gently place each chop into the pan with tongs. Allow to sear on each side for 1 minute until crispy and caramelized brown. Remove lamb chops from pan and place onto a sheet tray. Continue cooking in oven for 5 minutes until chops are medium rare. Cook an additonal 2 minutes for medum chops.
Allow to chops to rest for 5 minutes then drizzle with chimichurri. Enjoy!