Heirloom Carrot and Ricotta Tart with Za'atar Spice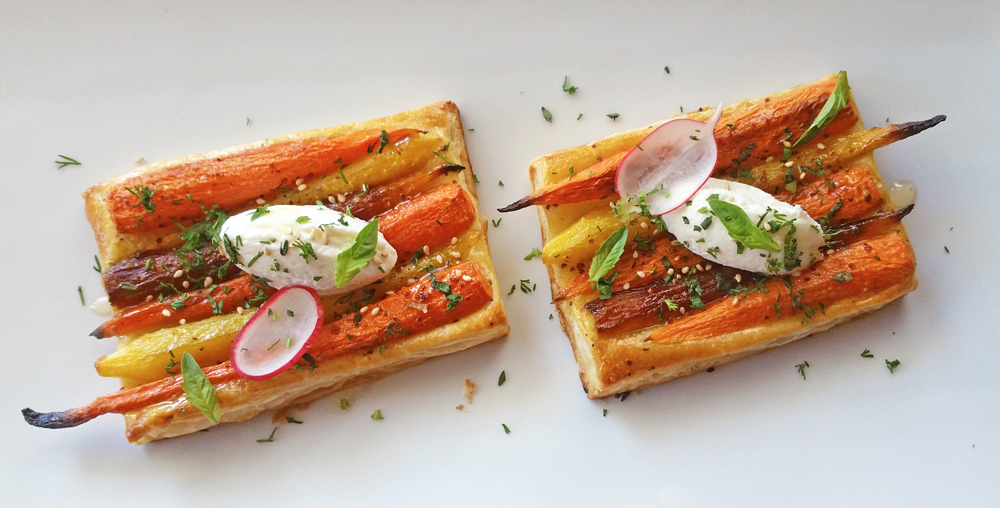 Serves: 4
Prep Time: 10 Minutes
Cook Time: 30 Minutes
By: Chef Hallie Norvet
Ingredients:
1 Small Sheet Puff Pustry, Thawed and Cut Into 4 4x2 Slices
1 Tablespoon Olive Oil

1 Pound Medium Size Heirloom Carrots, Trimmed and Peeled
1 Egg, Beaten

1/2 teaspoon Sumac
Salt

4 Tablespoons Ricotta Cheese
Honey (as much as you'd like, but a light drizzle will suffice)

1/2 Tablespoon Fresh Dill, Chopped
1/2 Tablespoon Fresh Thyme, Chopped
1/2 Tablespoon Fresh Mint, Chopped
1 Teaspoon Sesame Seeds

Directions:
Thaw your puff pastry according to directions.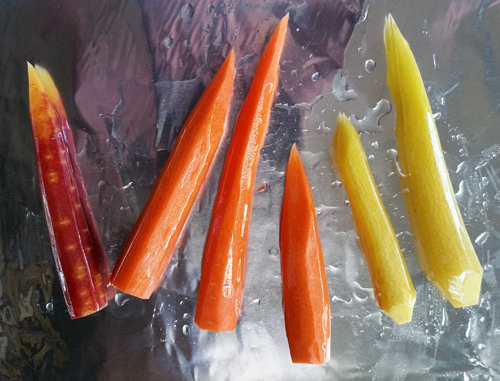 Preheat your oven to 400 degrees. Drizzle 1 Tablespoon olive oil onto a medium sheet tray. Lay out carrots onto the sheet tray so they are not touching. Place tray of carrots on middle rack of oven and roast for 7 Minutes. Open oven, remove tray and flip carrots over to cook evenly. Return tray to oven and allow to cook for an additional 7 minutes. Remove carrots from oven and allow to cool. 
When carrots are cool. Place them onto a cutting board and cut them in half.
Then, place your puff pastry sheets onto a baking sheet so they are not touching, as seen below. Top the sheet with the carrots cut side facing down. Sprinkle sumac and salt over carrots to season. With a clean basting brush, distruubute an even layer of egg wash over the visible puff pastry. The egg wash provides a nice color and sheen to the pastry.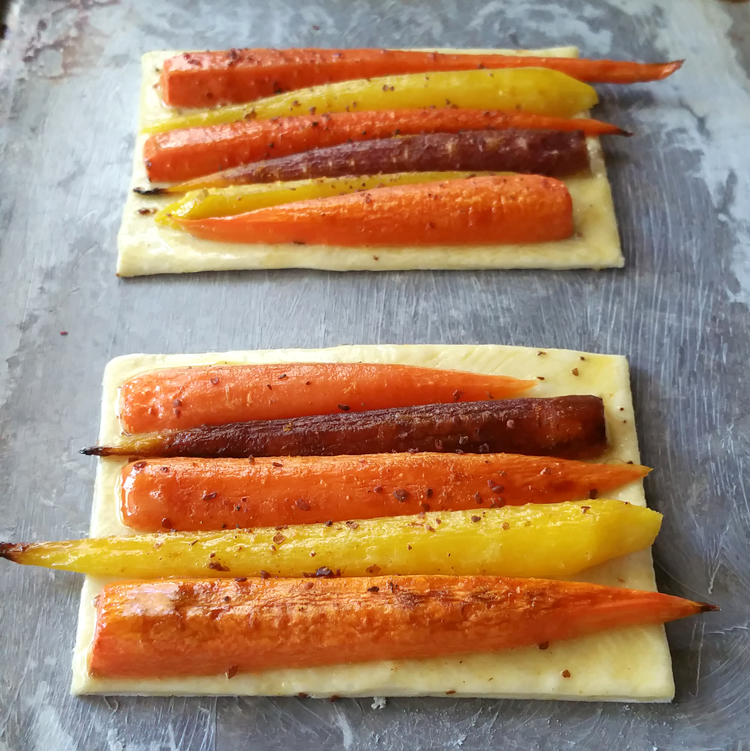 When finishing applying the egg wash, you're ready to pop these in the oven. Just like the carrots they should be cooked on the middle rack of a 400 degree oven. Bake these pastry's for 15 minutes until the edges are golden brown and the pastry is fully cooked. Remove pastrys from oven and allow to cool for 2 minutes. Serve with a scoop of ricotta, honey, sesame seeds and herbs. You can eat this with your hands or with a knife and fork.
Also, if you are making a large amount of these, you coudl sue the same recipe for whole sheets of carrot tarts. Just make an entire sheets and cut into the serving size you or your guest desire.