Mini Lemon Vanilla Blueberry and Blackberry Cobblers
It was a late weeknight and I was craving something sweet. That's when I created these cobblers. I had blueberries and blackberries in the fridge and the cobbler recipe can be made with oly 4 ingredients. Try this cobbler cake with any other type of fruit or berry for a satisfying treat.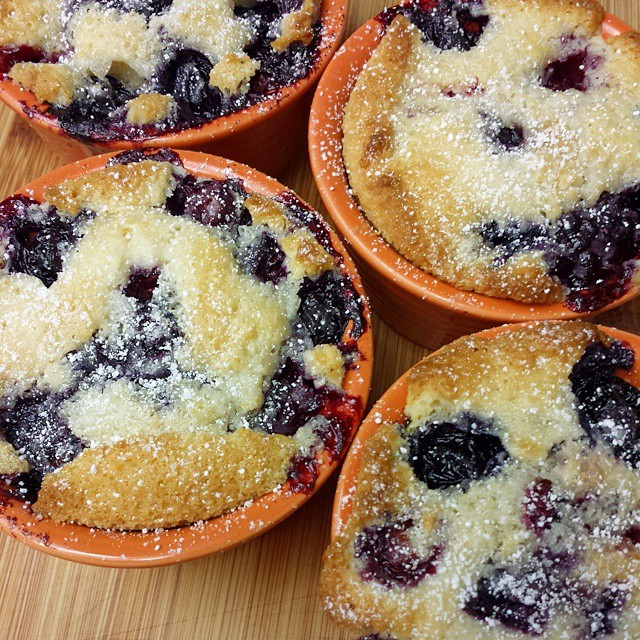 Makes: 8 Individual Cobblers
Prep Time: 10 Minutes
Cook Time: 30 Minutes
By: Chef Hallie Norvet
Ingredients:
8 Tablespoons Butter, Individually Sliced

1 Cup Blueberries, Washed and Dried
1 Cup Blackberries, Washed and Dried
2 Tablespoons Sugar
1 Cup AP Flour
1 Cup Sugar
1.5 tsp Baking Powder

3/4 - 1 Cup Milk
1 Tablspoon Lemon Zest
.5 tsp Vanilla Extract

Directions:
Pre-heat oven to 375. Take 8 individual oven-safe 3/4 cup ramekins and drop 1 Tablespoon butter into each ramekin. Place ramekins onto a large sheet tray and place in oven for 3-5 minutes until butter is melted. Remove ramkins from oven to cool.

In a medium mixing bowl, mix blueberries and blackberries and  with 2 Tablespoons sugar until thoroughly coated.

In a large mixing bowl, whisk 1 cup flour, 1 cup sugar, baking powder, milk, lemon zest and vanilla extract until smooth batter forms.
Next, distribute blueberries and blackberries evenly between the 8 ramekins.
Pour your batter into each ramekin over the berries. Fille each ramekin with batter until it is a little over 3/4 of the way full.
Place ramekins on a sheet tray in the oven and bake for 30-35 minutes until the top of eachcobbler is golden brown.
Remove cobblers from oven and allow to cool for 5 minutes.
Top with ice cream, powdered sugar and whipped cream.