These Mini Lump Crab Cakes served with Shaved Fennel, Cara Cara Orange and Citrus Emulsion are delicious enough to be served on their own! If you can not find Cara Cara Oranges, any other type of orange will do.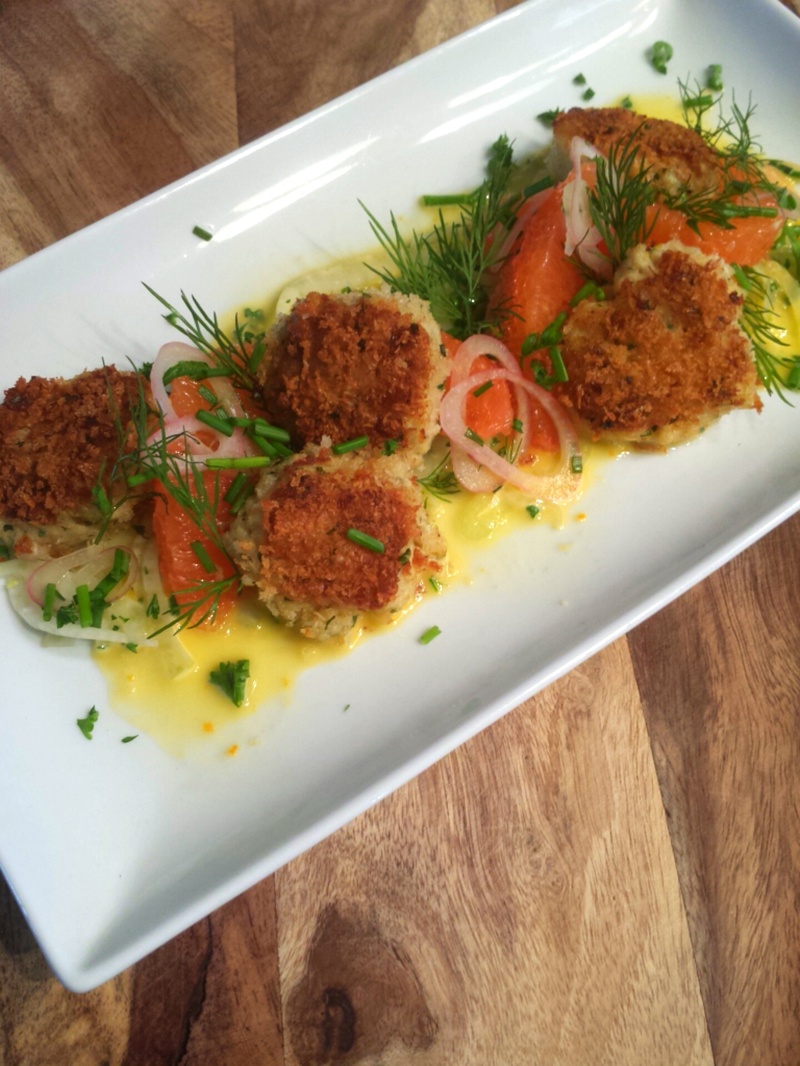 Servings: 2-3 (About 15 Mini Crab Cakes)

Prep Time: 25 Minutes
Cook Time: 8 Minutes
By: Chef Hallie Norvet
Ingredients:
For the Emulsion:
1/2 Tablespoon Dijon Mustard
1/2 Tablespoon Honey
1/2 Tablespoon Chopped Shallot

1 Cara Cara Orange, Juiced and Zested
1/2 Lemon, Juiced and Zested
1/2 Cup Olive Oil
Salt to Taste
For the Crabcakes:
1/2 Pound Lump Crab Meat
1/2 Tablespoon Finely Chopped Shallot
1 Tablespoon Lemon Zest

1 Tablespoon Chopped Dill
1 Tablespoon Chopped Chive
2 Tablespoons Mayonaisse
1/2 Tablespoon Dijon Mustard
Salt and Pepper to Taste
1/2 Cup Panko Bread Crumb
2 Tablespoon Olive Oil
1 Medium Bulb Fennel, Shaved (Save Sprigs for Garnish)
1 Cara Cara Orange, Supremed
Garnish:
1/2 Tablespoon Dill Springs
1/2 Tabelspoon Chopped Chive
DIrections:
For Vinaigrette:
In a medium mixing bowl, add mustard, honey and shallot. Slowly whisk in orange and lemon juice + zest with a fork. With an immersion blender, or a regular blender, blend mixture. While blendning, slowly add in olive oil until completely incorporated. Season dressing with salt to taste. If vinaigrette is too agressive for you, blend in 1 tablespoon of cold water. Chill sauce in refrigerator until ready to serve.

For Crabcake:

In a separate medium mixing bowl mix together crab, shallot, lemon zest, dill, chive, mayonaise and mustard. Sprinkle with salt and pepper. With a rubber spatula, gently fold ingredients together to keep crab from falling apart too much. Once incorporated, take 1 tablespoon of crab mixture and shape into a patty.. a crabby patty if you will. They should be about 1 inch in diameter. Then, dip each side of the crab cake into panko bread crumbs. Do not coat completely, just on the top and bottom to give it a nice crunch. Do this until all crab mixture is used. Want to make one big crab cake? Heck yeah, you do that! Just take a few more tablespoons of crab meat and repeat process.

Pre-heat oven to 400. In a medium saute pan heat olive oil over medium high heat for 1 minute. Gently add crab cakes and pan fry until golden brown. Flip, and repeat on toher side. Once both sides are browned place all crab cakes onto a baking sheet. Heat in oven for 6 minutes until 165 degrees.
Serve crab cakes over shaved fennel, cara cara orange supremes and fresh herbs. Drizzle the citrus emulsion around the plate to not soak the crabcakes.